Here Are 5 Awesome Black Heroes In Horror.
(AfroGamers.com) It's my favorite time of the year—Halloween. So, in honor of Halloween let's look at the top five Black heroes of horror films and TV shows! What heroes do you believe are missing?
Kim Mathis (Tracie Thoms, Death Proof, 2007)
Death Proof was part of a grindhouse-style double feature of films along with Planet Terror (watch that as well). In this slasher, Kurt Russell plays a veteran stunt actor and serial killer who targets women and kills them by offering them a ride, driving his car at high speeds, and stopping suddenly.
The title comes from Russell's car with is death proof because of its rumble cage. However, only the driver is safe from harm.
Kim Mathis was the real badass of the group of women who were meeting with their friend, a veteran stunt actress—she did the stunts for Lucy Lawless in Xena.
There is definitely a plot in Death Proof but the film moves at a fast pace. Also, the story is similar to 60s and 70s horror where there was just enough story here.
You're mainly there for the villain's deeds and their comeuppance—which Kim delivers with her friends at the end.
Morgan Jones (Lennie James, The Walking Dead; Fear the Walking Dead)
The Walking Dead's Morgan is pretty much the perfect post-apocalyptic survivor. Firearms, lone survival skills, martial arts, minds his own business and tries not to get involved—the perfect survivor.
His story sees him lose his wife turning into a walker sometimes before he meets original main character Rick Grimes. He later loses his son some time before joining Alexandria, a colony of survivors where long-lost friend Rick was living.
Because he tends to keep to himself unless things go south for his group, he's a character who could've done with his own show.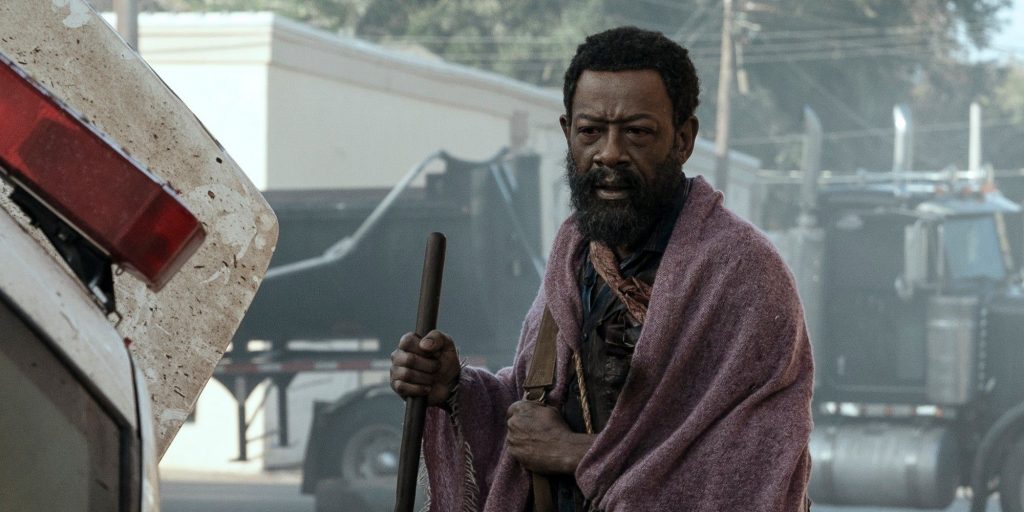 Danny Rich (Ice Cube, Anaconda, 1997)
Anaconda was a film that wasn't good or bad but it was fun. The premise was simple: a group heads to the Amazon to shoot a documentary about catching this super anaconda. As expected, they end up being the hunted.
Ice Cube's character Danny Rich was the camera man and proved to be one the best survivors on this expedition. He had Black person in a horror movie instincts.
While he didn't complain about being on this trip until things started going south, he was pretty much the proxy for the audience.
He's the friend who goes along with another friend's somewhat dangerous plan—Danny was the friend of Jennifer Lopez's character Terri Flores—knowing that something will go wrong.
That said, Danny really got in there and did his best to help those he could survive.
Honestly, this could've been Ice Cube's action/horror franchise. It wasn't a monster at the box office but it usually beat its budget and walked off with change.
With Cube and Lopez seriously behind it, Anaconda could've probably been a bigger franchise and Danny Rich would've been a bigger horror movie hero.
As an aside, I love that Anaconda was really the start of those gigantic animal monster films that SyFy ran regularly.
Roberta Warren (Kellita Smith, Z Nation, 2014-2018)
Wow, Z Nation only ran for four years? Many of us will know Kellita Smith as Wanda from the Bernie Mac Show. She also played a tough-as-nails survivor of the zombie apocalypse in SyFy's Z Nation.
Roberta Warren was a former National Reserve member before the Black Summer, the start of the zombie apocalypse. After the safe colony she originally stayed at falls, she leaves with several others to survive.
This escalates into a Journey to West-type adventure where they must take a former prisoner/vaccine test subject west to find a cure. Shenanigans and shootouts ensue across several seasons.
All the while, Warren proves to be an extremely capable leader. She isn't too hard-edged from things that she's unrelatable and not too likeable that she's likely to die early in the series.
She's as if Michonne, Morgan, Darryl, or Carol from The Walking Dead had immediate charm and you could trust that character. There's no "I think this character is up to something" or "She's the murderer?!"
It doesn't make for the most interesting character off the bat and Roberta was the most normal character in the group besides Abby, but her chemistry with the other main characters make her an above average character.
Blade (Wesley Snipes, the Blade trilogy)
It's amazing that we got this horror-superhero series of films mainly because Wesley Snipes couldn't get a Black Panther film rolling in the late 90s and LL Cool J wanted to play the character in the early 1990s.
I'm not sure what happened between 1992 and 1997—well, both men were busy with films in that gap of time but maybe Snipes was available at just the right time and had enthusiasm about playing the character.
At any rate, Snipes' portrayal of the vampire-slaying half-vampire was everything you'd picture it as. Cool, badass, resourceful—he even had some cheesy lines uttered. I'm all for cheesy lines in action-heavy films.
Also, bonus points for being the film series that showed Marvel that they could make stacks of cash off of their B-tier heroes. Without Blade—and to a small degree Ghost Rider—the Marvel Cinematic Universe would probably be a ways off.
Honestly, Snipes playing Blade is like Nick Cage playing Johnny Blaze of the Ghost Rider series: the preferred pick. Here's hoping Mahershala Ali delivers as the new Blade like he did as Cottonmouth in Luke Cage.
Staff Writer; M. Swift
This talented writer is also a podcast host, and comic book fan who loves all things old school. One may also find him on Twitter at; metalswift.