With 20M Units Sold in 15 Months, Nintendo Switch Creates a New Market.
(AfroGamers.com) Nintendo Switch sold nearly 20 million units since its introduction to the market last year. Sony has also revealed that it continues to lead in the total number of PlayStation 4 units sold worldwide. Sony's PS4 has touched 82.2 million mark in worldwide sales. At present, these two consoles and the Xbox One are being considered as competitors, but if we dig deeper into the data and not the emotions, we see that Nintendo Switch is creating a different market segment where no competitor exists. Surprisingly, neither Sony nor Microsoft can position their consoles in that newly created market category.
Here's what the data says
In October 2017, Nintendo President Tatsumi Kimishima shared a report after the company's financial briefing. The data he shared in the report reveals an interesting fact – the Nintendo Switch has one feature other console makers can't beat. It's well-known that the Switch can be used in two ways – docked and undocked. It means that you can use in TV mode or you can use it as a tablet or in handheld mode. Nintendo has collected some data in the US, Europe, and Japan and the data suggests that a majority of Switch users, more than 50 percent, are using the console in both ways.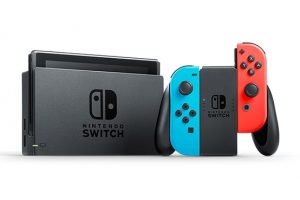 Good Long-term potential
One cannot find this capability in other leading consoles, be it Microsoft's Xbox One or Sony's PlayStation 4. Sony does have a popular handheld console called PS Vita, but Vita is not a Switch alternative. You can stream your PS4 games on PS Vita but this is nowhere close to what Nintendo Switch can do. And none of these companies are planning to release any handheld device in the future.
Both Microsoft and Sony are working on their next-generation consoles. For some people, console war is not that important, but for many, wanting more is never a bad thing. The Nintendo Switch doesn't directly compete with Sony or Microsoft, but it does have a sizable share of the home console market.
With over 300 publishers working on games for Nintendo Switch, it's pretty clear that Nintendo is serious about content delivery on its new platform. The first year of the console was celebrated with massive hits like Zelda, Mario Kart 8 Deluxe, and Super Mario Odyssey, 2018 looks promising for the platform with games from franchises like Pokemon, Kirby, Mario, and FIFA. Despite hardware limitations in terms of hardcore gaming performance, it's clear that Nintendo is making progress even in the traditional home console market.
Let's talk about the hardware side of the Nintendo Switch
When it comes to true gaming performance, Switch is not the most powerful home console and it's well-known that Nintendo didn't intend to develop one. The company chose Tegra X1 SoC and it was a smart move because even if Sony or any other console manufacturer tries to make a compact version of their home console, it's not going to be easy.
A big set of visual features was taken away from Wolfenstein 2 and Doom when these games were launched on Nintendo Switch. From resolution to frame-rate, almost all the visual elements were downgraded. People criticized developers and Nintendo for these changes and some even described the Nintendo Switch as an expensive sacrifice. But as a reminder, Nintendo never said they are jumping on to the "most powerful console" bandwagon.
Can we imagine Microsoft or Sony releasing Pokemon, Mario or Zelda games on their consoles? We can't because we know that neither Xbox One or PS4 product line is ready for this, and that's where Nintendo Switch is thriving without facing much heat from the competition. Many tech pundits have compared these hardware systems in depth and found that it's challenging to produce something that competes with Nintendo Switch because Nintendo's console is thriving on the "mobile first" strategy.
Conclusion
Typically, the shelf life of Nintendo consoles is six years. Nintendo aims to follow that trend with the Switch as well. But in the last couple of years, we have seen that console makers, including Nintendo, are releasing multiple versions of their consoles and if that happens with the Switch, we can expect a Nintendo Switch successor coming out sooner than later.
What's more important is that the video game industry has very positive feelings about the platform. In near future, there's no threat to this new market category Nintendo has created with the Switch. In fact, it is poised for growth.
Staff Writer; Jay Baker
Have any Gaming Tips? News? Hit up our Video Games Guru at; JayBaker@AfroGamers.com.