Gems of War: My New Addiction.
(AfroGamers.com) Bejeweled was once my ultimate stress reliever in game form. I didn't have to think just play. The music and the colors were relaxing, and I would in front of the Wii and play for hours. If there was something heavy on my mind it was a no brainer…play Bejeweled. Once I upgraded the subpar phone at the time I realized I could play my beloved game from the phone. I actually payed to have this game at my disposal at all times.
I played on the car, on breaks at work, when I wanted to disappear in a situation, and of course well into the night when I couldn't sleep. I pretty sure I would never find a game more relaxing until a few months ago when I was introduced to Gems of War on Xbox1. I had no idea I would love a game, with some of the same premise, as much as I love Bejeweled.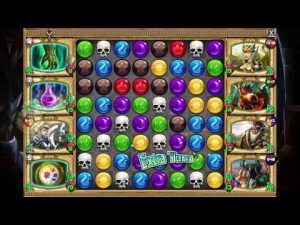 The tutorial for the game was very easy to follow while the graphics and format was very engaging. What I find to be the biggest difference is Gems of War may appear to be like Bejeweled, but it is more about strategy and interaction. Thought I didn't know if that would appeal to me I found myself thoroughly engrossed the quest story mode for the different kingdoms. If allows a new player to get acclimated to the game without feeling as though they are being thrown to the wolves in the PvP mode. Once a player feels comfortable they can fully engage in Player verse Player mode they will find they are able to earn more of the items they need to advance in the game.
In addition to the fun of the different modes the guilds allow you to become a part of a community within the game. Though something along these lines exist in other games in various ways Gems of War allows for a community to actually assist each other in gaining different items. Everyone pays into the tasks so that everyone can reap the benefits. You can join existing guild communities or level up high enough to create your own guild. This setup allows me to be in a guild with my husband and lots of other friends. In this way Gems of War allows you to be interactive while playing in your guilds and talking to other players worldwide as you play the game.
I admit I wondered if this would be relaxing, but I have come to love this game on the Xbox1 console, and like Bejeweled, I found that I can play the game on my android phone; one can also play on PC. The only drawback I did find is you can not link the game on your console to the one on your phone. The linking of games can only happen, as far as I know, between the phone and PC. I found myself playing two separate game which did allow me to have a different character and be in a guild while creating my own. I could talk for days about how much I love this game, and the fact that it is free makes it even better. Gems of War…try it you might find yourself addicted as well. Although I joke about video game addiction, it is a real thing that affects millions of people. If you want to know if you have an addiction, you can try a video game addiction test, which takes about 5 minutes to complete.
Staff Writer; Christian Starr
May connect with this sister over at Facebook; https://www.facebook.com/christian.pierre.9809 and also Twitter; http://twitter.com/MrzZeta.