5 Underrated Manga Series You Must Read Now.
(AfroGamers.com) In manga and anime, there is no shortage of underrated series. The vast majority of the time, these series aren't underrated, it's just that people enjoy manga and anime series. A significant amount of people are reading and watching these series and more often than not, they're consuming multiple series at once.
Just because folks aren't discussing someone's favorite anime doesn't mean that it's overrated. It has enough of a following in its core market that the manga continues to get published and the anime might pick up a second or third season. Hell, some of these series get video games, live-action adaptations.
If your favorite series manages to get merchandise and that merchandise is sold outside of its home market—your favorite series isn't underrated. A company isn't investing in an underrated series with a sub-cult following.
Let's get into five truly underrated manga series.
Weak Hero: An Underrated Manga With Heat
If you want to talk underrated, an underrated genre is delinquent manga. With that established, South Korean series Weak Hero by Seopass and Razen. It starts out by following a student Gray Yeoh as he tries to adapt to life in high school after a major incident in middle school.
This incident results in young Gray being blackballed from several high schools only to end up at Eunjang High. Eunjang is one of several schools with a large delinquent gang presence but the only one that isn't a part of the Union, an umbrella organization with several schools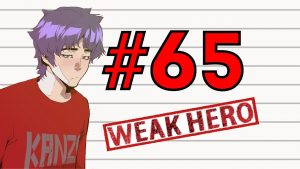 under it.
Early on, Gray Yeoh is tested by delinquent students but manages to fold several them, earning his own nickname. What puts Weak Hero over as a truly overrated manga are two things.
First, Gray fights for survival reasons and approaches fights strategically. His fights don't have special energy blasts, furious rush fighting or any of that. At only 5'2 and 110-lbs soaking wet with a brick in each pocket, he'll restrict his opponent's movements and use anything that isn't bolted down.
He's a "dirty" fighter but that's so refreshing in manga where everything is blasts, long explanations of the power system, and battles on the plans. Weak Hero is Sprite refreshing as a series.
The other bonus for Weak Hero is the character building. Everyone has a backstory and some of the core characters are even involved in other characters' backstories even if it's just in the background. Seeing the admiration and friendship of Eunjang's gang to the point of even turning an enemy into a friend is amazing writing.
Honestly, this is the most satisfying manga I've read in a while.
Crows x Worst
Yes, I had to drop another delinquent manga. Crows is a long-running series by Hiroshi Takahashi. It ran from 1990 until 1998 and dealt with several delinquent gangs striving for in the town of Toarushi. The main focus of the franchise is Suzuran High School. It's generational so after a class graduates, the story focuses on the new seniors/underclassmen.
However, since all the characters are locals, the adult former delinquents frequently pop up in the different series. Of the two, I started with and prefer Worst which ran from 2001 until 2013. The writing is still the same with hot-blooded fist fights, comradery, and respect. If I'm comparing delinquent series, Weak Hero comes off as more modern than Worst did even while being based in the 2000s.
Another thing is that South Korean delinquent series give an insight to school culture in a way that manga doesn't. Often times, there's a lot of stuff about corrupt teachers accepting bribes from influential parents and rich students going unpunished or conspiring for power within the school's hierarchy.
In Japanese delinquent manga, it focuses mainly on the boys fighting other schools for dominance over a neighborhood or city. Both tend to be fun reads.
Leveling Up By Only Eating
VRMMO or virtual reality MMOs are the wave in gaming manga. Following series such as .hack (Dot Hack) and later on Sword Art Online, if a gaming manga was published, it was likely to go the VRMMO route. It takes readers and watchers to another world while still having roots in the modern world.
At the top of that hill in South Korean manga is Hardcore Leveling Warrior but our next entry and Leveling Up By Only Eating by the writer-artist team of Park Min Gyu and Koge are rushing up that hill at full speed. Leveling Up By Only Eating follows Min-Hyuk, a young man who is suffering from an eating disorder that sees him eat large quantities of food in a short period of time.
This has affected his health negatively and every method his father's clinic has taken to tackling this has failed. In a last ditch effort to help him lose weight, the clinic decides to get the VRMMO game Athenae. VRMMO games allow players to experience the game world as they would the real world—that includes eating until satisfied.
Min-Hyuk enters the world and driven by his cravings for food, manages to level up rapidly by taking quests that will bring him into contact with delicious food and cooking. Leveling Up By Only Eating pretty much mixes Food Wars and its focus on cooking and awesome food visuals with the gaming approach of Sword Art Online or Hardcore Leveling Warrior.
It's not all blood-pumping action and fights but leans more towards adventure first and action second. It also has the most wholesome main character in Min-Hyuk who only becomes vicious when food is wasted.
The Legendary Moonlight Sculptor
Another gaming manga from South Korea with VRMMO as the backdrop. Created by Lee do-gyeong, Moonlight Sculptor is about Lee Hyun, a young man who was a legendary MMORPG player in his teens who is tending to his grandmother who is the hospital and his younger sister who is starting college.
He doesn't have the money to cover it but decides to sell his leveled out, powerful character "The God of War" Weed on the market. Lee scores $2.6 million from the sale and is able to cover his grandmother's cancer treatment. He gains more cash from royalties as Weed was a sensation among MMO player.
However, loan sharks show up and take the money to cover his father's debt. In a fit of rage, Lee vows revenge and the loan shark challenges him to make the same amount in two years. Lee enters the first VRMMO game Royal Road.
His plan is to make money selling rare gear and items on the market for real cash. Lee exercises to get in shape for the game, takes up the name Weed once more, and enters the world of Royal Road driven by opportunities at cash and wanting a better life for his family. He's far from the most wholesome hero—again, that's Level Up By Only Eating's MC—as a matter of fact, he's more like Hardcore Leveling Warrior only more tolerable outside of the game.
Solo Leveling
The real ones know about Solo Leveling. Your favorite shonen manga doesn't touch the amount of baddassery in this one. Usually when you get a series with an OP character the steam rapidly runs out of the hype engine before fans start complaining that the main character is too overpowered.
With Solo Leveling, fans only cheer Sung Jin-Woo's success and progress as he goes from E rank hunter to something beyong S rank thanks to something called double awakening—it's been months since I read the early chapters so correct me on the term, please.
I would go deeply into it but I already mentioned it in a dedicated article here on AfroGamers. With God of High School, Nobelesse, and Tower of God getting anime adaptations, the next three up should be Hardcore Leveling Warrior, The Gamer, and Solo Leveling.
Actually, just check out Chinese and Korean manga, there are tons of gems in there. Many of them are pretty much underrated manga series.
Staff Writer; M. Swift
This talented writer is also a podcast host, and comic book fan who loves all things old school. One may also find him on Twitter at; metalswift.