Why We Need a Portable Xbox Console from Microsoft.
(AfroGamers.com) The idea of a new portable Xbox console never took shape. If you think that Microsoft never considered launching a portable console, you're wrong. In fact, the company worked on a portable console design. It was a handheld, cheaper alternative to the home console. Microsoft said that it was a stick that people could just plug in to stream content from their Xbox. The Xbox portable console was also designed to run low-powered games.
Nobody, except Microsoft, knows what happened to that portable Xbox console, as we heard Phil Spencer, VP of Gaming at Microsoft, saying that he still believes in the power of television and the company is committed to its home consoles.
Portable gaming is on the rise and with the Nintendo Switch, things have changed a lot in both the hardware and software space. Sony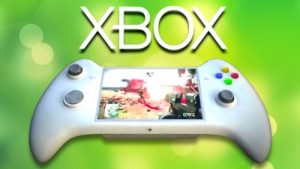 has its own portable console which is now being neglected. This is probably the right time for Microsoft to introduce a handheld. Not just because the competition is less, a portable Xbox console from Microsoft can easily fit into their gaming ecosystem and here's why.
Play Anywhere Initiative
It's all in the name. The Play Anywhere program lets you play games on any Windows machine including the Xbox and PC platforms. If Microsoft launches an Xbox portable console, the solution can easily fit into the ecosystem. Some people criticized the Play Anywhere initiative saying that it could hurt the company in the long run as PC players won't consider buying a console as building a PC gives more freedom to the end user. It may be the case for some, but if we look at the bigger picture, giving all the devices the ability to play games on any machine is a good idea.
Hardware and software
Windows 10 is a more improved platform for gamers. Most hardcore gamers will have a gaming PC so they can run games at the highest graphics and framerate. They use computer cases like Cooler master to store interchangeable parts like graphics cards, CPUs and RAM. However, there is still a demand for portable game devices even if the graphics aren't as good. With mobile chip makers bringing cost-effective, energy-efficient solutions for heavy applications, many things have changed in the last five years. The portable gaming market is growing, so it won't be very difficult for Microsoft to develop a portable Xbox console dedicated to gaming. It could be as simple as an Xbox stick Microsoft talked about in 2017 or as complex as the Nintendo Switch.
Games
It's true that Nintendo is the new king in the mobile gaming market. The company is killing it with new and old games. Nintendo has also partnered with developers for indie and AAA titles for its console and the company's online service is also doing well in terms of sales.
Microsoft didn't have good luck on its side when the company launched Windows phones, but the gaming market is different. There were hundreds of smartphones Microsoft was fighting against, but in the video game industry, the options are limited. People don't set the same parameters when they buy a video game console.
Nintendo has a strong library of games, but on the Switch side, it is also struggling. Microsoft has many games to showcase. From its own franchises and partnership deals, there is a lot of content the company can push through a portable Xbox console. That being said, Nintendo's switch is still away from being a perfect handheld due to the features it lacks in terms of hardware capabilities and content.
By launching the world's most powerful video game console, the Xbox One X, Microsoft has proved that its command over hardware is incredible. The company has also introduced the Surface product line and you can run Forza Motorsport 7 on the Surface Pro. It's interesting to see how Microsoft is utilizing the power of its hardware and Windows in mobile gaming.
Technically, there are many ways to build an Xbox portable console. Microsoft can go for an Xbox 360 based console that can run old games as well as indie titles that didn't get backwards compatibility treatment. If the console also supports streaming and compatibility with the Xbox One product line, people will also be able to resume their session on a home console.
Maybe a portable Xbox console is something we could see in the future. If Nintendo continues to sell the Switch, Microsoft may consider its options as the company is undoubtedly monitoring the mobile gaming scene.
Staff Writer; Jay Baker
Have any Gaming Tips? News? Hit up our Video Games Guru at; JayBaker@AfroGamers.com.