Maid of Sker is based on True Events, Here's the Story Behind it.
(AfroGamers.com) Coming in Q3 2019, Maid of Sker is a first-person survival horror game announced for PlayStation 4, Xbox One, Nintendo Switch, and PC. The game is developed by Wales Interactive and it is based on true events highlighted in R.D Blackmore's novel The Maid of Sker. Before we dive into the story, let's learn about what's in the novel and how Maid of Sker video game is related to it.
R. D. Blackmore published his three-volume novel in 1872. The novel focuses on a two-year-old girl who reaches the coast of Glamorganshire in a boat. An old fisherman Davy Llewellyn finds the girl and leaves her at one of his neighbour's house. If we look at the real events associated with the house called the Sker House, there's a strong connection between the novel, the game, and the real world events.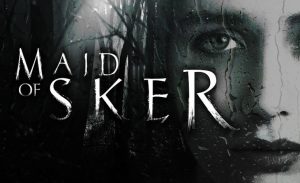 The Sker House exists and it is located in Wales, United Kingdom. The 900-year-old building is said to be haunted by two ghosts Elizabeth Williams and a captain of a ship. Williams was locked up in a room by her father as the man wanted to prevent his daughter from running off with her lover. The lady died of a broken heart in that room and since then it is believed that the Sker House is haunted.
Fast forward to today, and we have an exciting survival horror game which is set in 1898. The game features a very different gameplay style focused on stealth elements. In Maid of Sker, instead of wielding weapons, players will be supported by an AI system to distract enemies. Players will control a character called Thomas Evans who is a musician and according to Wales Interactive, he will engage in a battle in an attempt to save the woman he loves.
As for how you will play Maid of Sker, the main focus of the game will be on stealth and exploration. The AI system we mentioned above is based on 3D sound and it will help players in survival. The developer is taking players away from weapons, but to fight the enemies, players will set up traps. Distraction will be an important element in the gameplay. Players will be able to distract those spooky spirits that haunt the house using certain features. As you progress, enemies will evolve and there will be a point where the only thing that can save you is holding your breath.
The real Sker House has been associated with hauntings and paranormal activities. The main area in the house is the Great Hall which was also shown in the Maid of Sker game's trailer. It seems the entire building was designed around this hall as it occupies the entire width of the building's first floor. The Great Hall is said to be the main service area and it gives access to the parlour area where private apartments of families were located.
In 1543, the Sker House was purchased by Richard Williams and later Christopher Turberville repurchased the property. Soon after Turberville left, Sker House became a home to many tenants. At present, the property is privately owned after it was listed for sale in 2003. Some stories suggest that Elizabeth Williams whose spirit still haunts the house was forced to marry and later she died.
The musician Thomas Evans, who was in love with Elizabeth, and is also the main character in the Maid of Sker game, planned to elope and made all the arrangements. He hired a coach and horses but when he reached the house to take Elizabeth with him, he had to return without his beloved as dogs in the area made so much noise.
People who have visited the house say that they saw mysterious figures and dark shadows in the room where Elizabeth was locked. Visitors have told that entering the house makes you feel physically sick and they also heard screams and wailing cries. Reports say that there's an evil presence in Sker House that doesn't want anyone's presence.
Maid of Sker will be released in Q3 2019 on Xbox One, PS4, PC and Nintendo Switch.
Staff Writer; Jay Baker
Have any Gaming Tips? News? Hit up our Video Games Guru at; JayBaker@AfroGamers.com.