Shenmue 3: Here's what to Expect When the Game Launches On August 27.
(AfroGamers.com) Shenmue 3 raised over $7 million from its crowdfunding campaign and the game is still on track for release in August 2019. It's been a bumpy ride for Shenmue 3 as the game spent more than 10 years in development hell, a term used to describe content (game, movie, music etc) that remains in development for a very long time.
Development
Before taking you to the mountains of Guilin, China where the game is set, it's important to see what the developers are actually doing. Shenmue 3 is being developed by Neilo and YS Net. These two studios are managed by people who worked on the series's previous games. While working for SEGA, Shenmue creator Yu Suzuki, started his own video game company YS Net and Takeshi Hirai, the first Shenmue game's lead programmer manages Neilo.
Story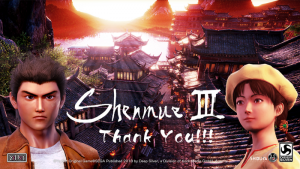 If you're new to Shenmue games, here are a few things that you need to know. Shenmue 3 is a story of a boy called Ryo Hazuki. Ryo is a martial artist and he is traveling to China from Japan in search of his father's killer. The story is not purely based on revenge as there's a touch of friendship, loyalty, teamwork, and love. Ryo meets Ling Shenhua, a girl who appears in his dreams. On their journey, the duo will meet many characters and the game portrays these relationships while focusing on Ryo's transformation to manhood.
During an interview, Yu Suzuki said that the story of Shenmue 3 is based on an 11 chapter story he planned years ago. The game will use this story in a way that both new players and long-time fans will be able to enjoy. The main character Ryo is still the same angry boy, but as he meets new people during the period of his martial arts training, players will see how his life changes as he grows.
Design
Shenmue 3 runs on Unreal Engine 4. According to Yu Suzuki, the studio decided to choose UE4 because the game engine fits perfectly into the needs. The design concept the game engine provides perfectly matches with the concept of Shenmue 3. Yu Suzuki is known for using 3D Sprite graphics that have become popular since then. Many games including Hang-On, Out Run, Space Harrier, and After Burner are based on this design approach.
Suzuki is also one of the first developers to use polygonal 3D graphics in video games. His games including Virtua Racing and Virtua Fighter have made 3D graphics popular in gaming. For Shenmue 3, he is working with people who have worked on Shenmue games before.
YS Net has not revealed any other details about its upcoming game. The studio has in fact not shared the details about the team size for confidentiality reasons. One interesting thing about this team is that Suzuki has hired a South Korean graphic designer Kid Nocon who rose to fame after his high definition graphics of Shenmue went viral. The studio has managed to bring a "very promising team" on board for Shenmue 3, said Yu Suzuki.
This is not the end
Shenmue games have featured many events around Ryo and Shenmue 3 will continue the pattern. According to its creator, Shenmue 3 won't conclude the story. During an interview, Suzuki said that if they conclude the story here in this game, it will feel rushed. He hopes that if the game becomes a success, the studio would like to make more games for the series.
Shenmue 3 Release
Shenmue 3 will be released on August 27, 2019. The game will be available on PC and PlayStation 4. The franchise has seen many obstacles in the past and many times, people lost hope. The game has seen tremendous support from fans and it has also achieved its funding goal. Since Sony has canceled the PlayStation Experience event and the company is also skipping E3 2019, it may host an event sometime in early 2019 to share more details.
Staff Writer; Jay Baker
Have any Gaming Tips? News? Hit up our Video Games Guru at; JayBaker@AfroGamers.com.