New Details about Fruits Basket Anime Revealed.
(AfroGamers.com) A short new trailer of Fruits Basket is here and it reveals a little more about the new anime which is scheduled for a run in 2019. The trailer shows Tohru appearing at the Sohma house. She faces Yuki Sohma and looks at Kyo as he is shown sitting on a roof. Everything feels similar to the original series and brings back old memories. Character designs of Kyo, Yuki, Tohru, and Shigure has also been revealed in their zodiac and human forms.
With the protagonist Tohru Honda, mysterious stories of the Sohmas are also making a comeback. Sohmas are a group of people who are cursed. They change their shape and turn into an animal of their zodiac in certain situations. If a member of the Sohmas family is under stress or is hugged by someone of the opposite sex, they turn into an animal.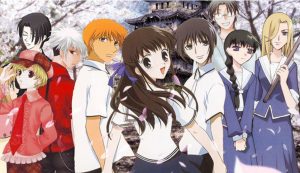 After losing her mother in a car crash, Tohru, after spending some time in a tent, starts living with Sohmas. After an incident, she discovers the truth about this cursed family and decides to break the curse. In Tohru's presence, Sohmas feel a strong positive change in their lives, but her own life becomes challenging as she interacts with other zodiac spirits.
In the new Fruits Basket anime, four members of the Sohma family are also featured. Yuki, Kyo, Ayame, and Shigure will be present in the series when it goes on air in 2019. The 2001 anime adapts most of the characters from Fruits Basket manga series, but there were some major changes. Anime creators combined some events as the Manga was in development at that time. In an official statement, Funimation confirmed that this time, the anime will feature the entire storyline.
People have been asking for a new anime series and after a long silence, Funimation finally announced Fruits Basket for 2019. The series will be broadcast in North America. According to the official press release, Natsuki Takaya, the original manga artist will work as the executive supervisor for the development of the new Fruits Basket anime series.
Takaya also said that this series will be completely new as it will bring new cast and staff. Funimation has not revealed details of the entire cast, but it is now confirmed that Manaka Iwami will take the charge as the voice-over artist for Tohru Honda. Yuki will get voice from Nobunaga Shimazaki and Yuma Uchida will give his voice to Kyo Sohma.
The first Fruits Basket anime was produced by Studio Deen. A total of 26 episodes were shown at that time, but the episodic series didn't touch the entire storyline. A lot of elements remained out of these episodes and the producer managed to cover only six volumes at that time.
Now, when a new Fruits Basket series is coming, it's not only a big announcement for fans, it is also a huge opportunity for FunimationNow. After its break up with Crunchyroll and VRV, the company is now the sole provider of all of its published series.
The original Fruits Basket manga series is popular in Japan and in the United States. The manga series sold more than 18 million copies in Japan alone. In 2006, the creators sold more than 2 million copies. The series expands school drama and brings romance and many twists in the story. The relationship between Tohru and Sohmas family is touching and it's exciting to see these characters working on their relationships while struggling to break the curse.
Yoshihide Ibata is the director of the new Fruits Basket series and Taku Kishimoto will work as a series writer. Character designer Masaru Shindo will also join the team for this release. Funimation has licensed Fruits Basket for home video distribution and streaming, so it will be available on FunimationNow.
So far, Funimation has not confirmed a release date for the new Fruits Basket anime series. The only thing the company has confirmed is the 2019 release.
Staff Writer; Jay Baker
Have any Gaming Tips? News? Hit up our Video Games Guru at; JayBaker@AfroGamers.com.