Darksiders 3's Biggest Problem Is Its Gameplay.
(AfroGamers.com) Darksiders 3 is out now. You can download the game on all the three major platforms including PC, Xbox One and PlayStation 4. The game has received mixed to average reviews for obvious reasons. Many people have compared this game to Dark Souls and it's true that the developer Gunfire Games tried to copy some elements from Dark Souls and they failed very badly. The biggest problem with Darksiders 3 is not in its graphics or predictability, but rather its gameplay.
Something's wrong with the camera
I played Darksiders 3 and I really enjoyed the combat when all the elements actually worked in the way they should. If everything runs properly then you will notice how powerful the characters are and how challenging it can be to fight in certain situations. Sadly, things don't work well all the time and it's not just me, many players have complained about it.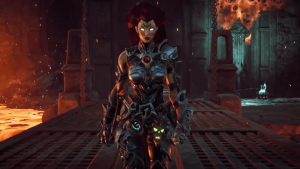 There's something seriously wrong with the camera. During battles, you have to keep in mind that the camera can get you killed at any time because it doesn't function properly. You go off screen and your enemies keep beating you, and that's strange. You can do nothing about it because there's no way you can come out of that situation and defend yourself or start attacking your opponent.
There's no balance
If you have played the game for a reasonable amount of time, you've probably noticed that your players feel the same. In terms of capabilities and strength, it feels the same no matter how much time you've spent or how many times you've leveled up. This annoying issue troubles a lot when you're fighting. Some enemies feel like they are just a showpiece and can be knocked down with just a punch. Some enemies are brutally hard to beat. It's not about the challenge, there's something wrong with the balancing.
You hit a certain level and then you'll realize that even an enemy who can't handle a single hit can defeat you in seconds. Darksiders 3 needs some serious balancing fixes because some enemies feel too strong and some don't even justify their existence.
Story?
No matter how much you try to connect yourself with the game's story, it feels off. When we are playing the third game of a decade-old video game series, it should at least bring something new and fresh. Sadly, the storyline feels almost the same and gameplay is a backstep.
There's a lot to explore in the game and if you're a fan of exploration, Darksiders 3 won't disappoint you much. There are plenty of things to do other than enemy encounters, but even the exploration part is plagued with some issues. Without a proper map, it's hard to explore the area if you want to make it meaningful and don't want to wander aimlessly. The compass is also not helpful unless you want to go to the next sin encounter.
Darksiders 3 vs Darksiders 2 vs Darksiders
The first game in the series was focused on hack and slash with some RPG elements. The second game focused a little less on hack and slash and more on RPG elements. There were some major improvements in the second game and we got to use Death's two scythes. This time with Darksiders 3, developers have balanced both hack and slash and story elements by focusing more on combats.
If you have played other games from the series, you may have noticed that the game also focuses on boss fights. So, with this entry, Gunfire Games have introduced the same idea with a slightly different gameplay, a new combat system, and a different story.
There are glitches in the game and graphics also feel dull in the beginning. As you progress, these problems disappear to some extent and most of the gameplay issues can be patched out if the developers recognize the problems soon. After releasing the game, the developers have released some patches to fix problems reported by players. Hopefully, it will get better.
Staff Writer; Jay Baker
Have any Gaming Tips? News? Hit up our Video Games Guru at; JayBaker@AfroGamers.com.