Alien: Blackout Release Date, Gameplay and Everything We Know So Far.
(AfroGamers.com) Alien: Blackout was not announced at The Game Awards 2018. Many fans were hoping to see at least some teasers, but nothing happened. If you don't know what Alien: Blackout is, it is a video game title which has been registered by 20th Century Fox. As stated in the registration details, the title Alien: Blackout will be used for a video game.
It all started when the details of a trademark registered by 20th Century Fox appeared online. The filing date for the trademark was November 22, which led many people to believe that the game will be announced at The Games Awards 2018 which were held on December 6.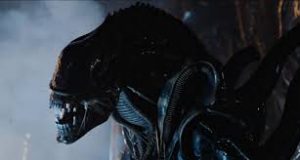 There were some interesting coincidences as the game developer Hideo Kojima shared some pictures of himself visiting 20th Century Fox office and in the background, many things related to aliens were present. This led fans to believe that some announcement is coming soon. The host of The Game Awards Geoff Keighley also shared some cryptic images on his Twitter profile and also replied to Kojima's tweet with the same cryptic message "Worlds will change". Fans started connecting dots and according to their theory, the 'W' and 'worlds will change' are picked from a movie from the Alien franchise. The graphics shared by Keighley also share similarities with Alien: Isolation game.
Maybe it's just a coincidence that the trademark application and the date of The Game Awards show were close. It's unlikely that Hideo Kojima has something to do with Alien: Blackout game which we don't know has any existence outside the trademark registration documents. At present, there's no official statement available from 20th Century Fox as to what they are planning to do with the new game title.
Currently, Cold Iron studio is working on a video game which is based on the Alien franchise. According to the company's official website, it's a shooting game and they are hiring for multiple positions. The game will be based on Unreal Engine and it will feature multiplayer elements. Reports suggest one more interesting thing about this game. Alien: Blackout is being developed for the next generation of consoles.
Cold Iron studio was established in 2015 by former Cryptic employees. The team has worked on some noteworthy titles including City of Heroes, Neverwinter, Star Trek Online, and Marvel Universe Online (Cancelled). In January, entertainment giant Fox announced that it has acquired Cold Iron studios. The interactive entertainment division of 21st Century Fox, FoxNext Games confirmed the acquisition and announced that Cold Iron will work under its new parent on an Alien shooter game. During an interview, FoxNext Games president Aaron Loeb said that Cold Iron will start from an Alien shooter which will be available for PC and console players. He said that the kind of games the studio has developed in the past will help FoxNext further explore the world of their franchises.
While talking about the storied franchises, Loeb said that the team is working on areas of the universe that players haven't experienced before. They are putting the game into that setting and it's incredible, he said. According to Cold Iron's website, they have a team of more than 30 developers and they are still hiring more people. Loeb didn't say anything about the size of the team that's working on Alien: Blackout, but he said that the studio is having a "full force of creatives" at Fox.
Some people who work at Cold Iron studio have a strong background in making MMO games. They have worked on games like Star Trek Online and City of Heroes so we can expect a lot from the upcoming Alien: Blackout game. Online multiplayer gaming is the hottest trend in the video game industry and since the game will be launched on the next generation consoles, it's safe to assume that we will get to hear some solid details in 2019. Recently, two Twitter accounts have also appeared with Alien: Blackout name.
Staff Writer; Jay Baker
Have any Gaming Tips? News? Hit up our Video Games Guru at; JayBaker@AfroGamers.com.