My First Thoughts About Dragon Ball Z: Kakarot.
(AfroGamers.com) I recently saw a brand new trailer that Microsoft unveiled at their 2019 E3 Press Conference which was originally called "Project Z" has now been officially named "Dragon Ball Z: Kakarot".
The trailer shows The Story Of Dragon Ball Z from not only the perspective of the other Z-Fighters such as Piccolo, but the main character called Kakarot. The trailer shows numerous events that happened in Kakarot's life from his first battle against Vegeta to transforming to Super Saiyan after Frieza killed his best friend Krillin on the fictional Planet Namek. 
Here are things that I like based on what I saw from the recent new trailer of "Dragon Ball Z: Kakarot".
Gameplay – When I saw the gameplay trailer for the new game, I was immediately blown away by how smooth the gameplay and the graphics were because of the fact that the game is being developed by the same gaming developers that called Cyberconnect that created the memorable "Naruto: Ninja Storm" & ".hack" video game series which also had amazing gameplay and graphics along with characters that are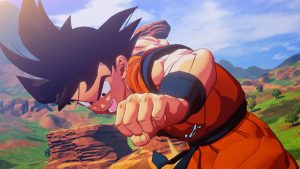 fan favorites that you could play with for hours during the day. In one particular part of the gameplay video, there's a scene where Kakarot goes up against a random Red Ribbon Army robot and he and Piccolo both fight the robot launching punches, kicks, and their super attacks that successfully defeated the android and I absolutely enjoyed seeing that. 
Story – Like I stated earlier in this article, the story of this game centers around the main character of the entire Dragon Ball continuity named "Kakarot" and showcases the various events that's happened throughout his career such as his memorable fight against Vegeta to turning Super Saiyan on the fictional Planet Namek after Frieza kills his best friend Krillin. Aside from doing main story missions, there will also be plenty of side missions to do in this game just in case you want to take some time off from the main story missions. An example of one of the side missions for the game is when Kakarot will be able to catch and eat fish, but to do so, he'll have to place his tail back in his bottom and sticks it in the water as bait and he can even remove and replace his tail at any given time which is pretty strange if you ask me. 
Elements – The main two elements that are incorporated into the game are the open world and RPG elements. I wrote in an article a while back that I'm not only a huge fan of RPG games, but I'm also a huge fan of RPG games that have the open world element added to it because it allows for the player to explore new areas and new parts and interacting with new characters in ways that the old school RPG games of the 1980s and 1990s couldn't do. The open world elements of this game are so amazing and I would even say that they're significantly better than the one seen in the Xenoverse series. I have definitely played so many RPGs over the years and it will always be my favorite genre because it has definitely helped me expand my skill set in other areas over the past two decades. 
The Conclusion – Dragon Ball Z: Kakarot is definitely one of the biggest games to look out for when it drops on PS4, XB1, and Steam in Early 2020.
Staff Writer; Kwame Shakir (aka Joe D.)