10 Best Free To Play Games on Steam.
(AfroGamers.com) When it comes to picking the best free to play games on Steam, the choices are almost unlimited. In this list of free Steam games, we have picked the 10 best titles among all. Those who are looking for free PC games should note that there's a difference between the terms free and free to play games on Steam.
A free game means it is completely free and won't ask you to spend money on in-game items. Free to play games are available for free to download and play but they also offer paid content just in case you want to buy. For example, Minecraft is a popular free game, but setting up a Minecraft server for yourself and friends costs extra. In both the cases, you can download and play the base game for free. So let's have a look at the top 10 free to play Steam games.
Path of Exile
Path of Exile is an action RPG featuring hack-and-slash elements. A high learning curve awaits new players, but thankfully you can easily find guides and resources to learn the basics. The reward for the same is an extremely addictive game. If you are a fan of Diablo and other related ARPG games, Path of Exile won't disappoint you. The best thing is it's free and also features new expansions and leagues.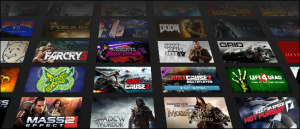 Paladins
What do we expect from a free-to-play Steam game? If it's an online multiplayer game then the first and the most important thing is the community of players because that's how gameplay can be enjoyed. If you're looking for a game that has established a large online community of players, Paladins is your game. There are four roles that you can choose for your character and each of them is tasked with securing the area. The best thing about the game is that it does not feature pay-to-win microtransactions.
Ring of Elysium
PUBG styled gameplay, polished graphics, well-designed combat elements, and a voice chat options to enjoy the game with your friends if this is what you want from free to play games on Steam, pick Ring of Elysium without giving a second thought. At times, this small game turns out to be even better than all the other battle royale games. The free-to-play early access game is now available in North America and Europe.
World of Tanks Blitz
If you're looking for gameplay quality, World of Tanks Blitz offers exactly that. While graphics, balancing, sound, and microtransactions are not perfect, the game has enough content and things to do to keep you busy. There's no denying this game was launched for mobile phones and later it arrived on PC in 2015. The game lacks some features, but it is not a painful experience on PC.
Star Trek Online
It is one of the best free to play games on Steam with "mostly positive" reviews from players. Star Trek Online is an MMORPG from the popular Star Trek franchise. You play as a captain and can control starships. The game was released in 2010 and has evolved since then. If you like Star Trek stories, the game has re-invented a couple of times and feels fresh even after so many years.
Warframe
The best thing about Warframe is that it is being updated and the game developer is taking good care of the community it has built. If you are looking for a game that keeps you busy and is addictive, download Warframe for free and enjoy it in any way you want. For both casual and committed gamers, Warframe offers a lot of things to do and it's fun.
Brawlhalla
This 2D platformer features single-player and multiplayer modes in both online and local play. The game is incredibly small in size and doesn't trouble you with a lot of technical details.  The moment you set up the game, you can start playing. The game is simple but it's fun no matter if you're playing solo or with friends. All the levels are designed well (keep 2D in mind as you read this) and the overall gameplay is fun and addictive.
Robocraft
For aviation fans, Robocraft features a great sense of engineering and design. You build your own vehicles, drive or fly them depending on the combats you're choosing. You put together different items which you can buy using points which you earn or you can spend real money and get things done to progress faster. If you have played World of Tanks, this game will give a similar feel but there's a lot more to do.
Deceit
Deceit is the game you can enjoy with your friends and have fun for hours. The game is easy to pick up, thanks to developers for making it simple and easy to play even if you're touching games on your PC after a long time. The only drawback we felt with this game is the servers are filled with casual gamers who don't take gaming seriously. The best way to avoid such things is bringing your friends online.
Creativerse
Tired of playing Minecraft? Creativerse is a sandbox survival game that receives timely attention from its developers. They bring in new contests, updates, and listen to the community to make the gameplay more fun. If you think that it's a Minecraft clone, it's not because despite being a building game, the core gameplay is very different, and graphically, this game feels pleasing to the eye.
Which of these games do you want to play? Know of any other good free to play Steam games? Share your thoughts in the comments.
Staff Writer; Jay Baker
Have any Gaming Tips? News? Hit up our Video Games Guru at; JayBaker@AfroGamers.com.