Rage 2 Steam Release, Preorder Bonuses, Gameplay and Everything Else.
(AfroGamers.com) Rage 2 Steam release has been confirmed by Bethesda. Steam has been successful in getting some more Bethesda titles including Wolfenstein: Cyberpilot, Wolfenstein: Youngblood, Fallout 76, and Doom Eternal. Valve's video game distribution platform is already facing strong competition from Epic Games Store as many game publishers are turning to Epic for their games' release.
Last year, video game publisher Bethesda confirmed that id Software and Avalanche Studios are working together to develop Rage 2. The game is a sequel to Rage, which was released in 2010 by id Software and later in 2011 for consoles and PC. The new game is set 30 years after the events of Rage. Players take control of ranger Walker in the post-apocalyptic open world.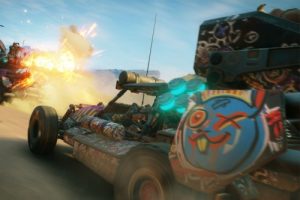 Rage 2 release is set for May 14 and as a part of the commonly followed sales practices, Bethesda is offering three different editions of the game – Standard, Deluxe, and Collector's Edition. If you pre-order the game, you will get some exclusive bonuses. The Rage 2 preorder bonuses include a quest called Cult of the Death God Mission and collectibles like Nicholas Raine Armor, a Settler Pistol, and Mutant Monster Truck Skin.
The exclusive quest in Rage 2 will feature the protagonist fighting a group of mutants who worship the image of Nicholas Raine, the original game's protagonist. These exclusive pre-order bonuses will be available with all the Rage 2 editions which you can purchase from your console maker's store. The game will also be available on Steam and Bethesda's game store.
The Rage 2 Deluxe Edition includes Rise of the Ghosts Expansion which will be made available by this summer. Other than that, the deluxe edition also brings Wasteland Wizard cheat codes, DOOM BFG, battle standard, and progress booster. The Collector's Edition includes physical and digital items. There's nothing extra in terms of digital content as the Collector's Edition brings all the content available in the Deluxe Edition. The physical items which you can only find in the Collector's Edition include a steelbook, a poster, and Ruckus the Crusher Talking Head.
Rage 2 is no doubt one of the most anticipated games of 2019. It is very different from the original Rage and also looks very colorful. The studios working on the game are the reasons why most of the fans who were disappointed by Rage are still eagerly waiting for Rage 2 release. Rage 2 gameplay features a vast open world where you can only play in single-player mode as the game doesn't give you any other choice. These days, finding good single-player games is no easy thing as most of the developers are riding the MMORPG wave. One of the best features of Rage 2 is its gameplay style. The game gives you enough opportunity to experiment. You get many special abilities and use a variety of weapons. You can drive almost every vehicle you see in the game. The list of vehicles, as shared by Bethesda are buggies, gyrocopters, and monster trucks. You can drive all of them.
Bethesda has shown off some gameplay footages in the past and the feedback was mixed. In those gameplay footages, the character looked so overpowered that no matter what the enemy does, Walker always appears to be stronger. This makes the game look less challenging. However, we still haven't seen everything the game has to offer in terms of gameplay, so it's too early to judge the game based on what we're shown.
Bethesda's Fallout 76 wasn't well received when the game was launched in November of last year. Hopefully, Rage 2 won't disappoint. The original Rage received mostly positive reviews from players except for the ones who played the game on iOS. There were some issues with PC version which were later fixed. The game also won several awards at that time. Rage 2 looks impressive and very different from its predecessor. The game will be released for Xbox One, PlayStation 4, and PC platforms.
Staff Writer; Jay Baker
Have any Gaming Tips? News? Hit up our Video Games Guru at; JayBaker@AfroGamers.com.