Best Of 2018 – Favorite Video/Mobile Games.
(AfroGamers.com) The year of 2018 was definitely a very good year in the gaming industry as a whole with mobile gaming continue to grow and expand at a rapid pace while the console gaming continues to maintain a steady presence in the gaming scene.
Here are my favorite video/mobile games of 2018;
1. Dragon Ball Fighterz (PS4, XB1, PC) – When I first heard saw the first gameplay trailer for Dragon Ball Fighterz last year, it looked so badass with the crisp 2.5D graphics and a control scheme that's very similar to the first Marvel vs Capcom game in which you had to press certain buttons to do air combos as well as single character hyper combos and double team hyper combos. This game has many modes such as story, arcade, and even the world tournament mode. The roster for this game has gotten bigger since this game was first released and includes some of my favorite Dragon Ball characters in Vegeta, Frieza, Hit, Beerus, Goku Black, and Future Trunks. I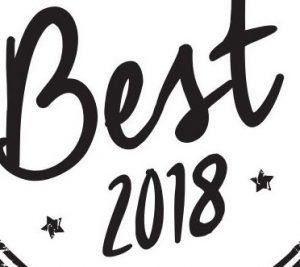 actually got to play this game on my computer a while back and I can definitely say that I had so much fun playing a Dragon Ball game for the first time since playing Budokai 3 during my high school days. This game also pays homage to many iconic moments in the 30+ year history of Dragon Ball like The Father-Son Kamehameha from SS2 Teen Gohan that defeated Perfect Cell at the end of The Cell Saga during The DBZ Era.
2. Sega Heroes (Mobile) – Sega Heroes was released for mobile just recently after I first heard about the game online just a week ago and I was excited to get the opportunity to once again play as some of my favorite Sega characters from Sonic The Hedgehog to Adam Hunter from Streets Of Rage. The game is a typical match three type of puzzle game that brings very interesting elements to the game like the ability to match four gems of the same color to trigger the character's "Star Skill", RPG elements like the ability to level up a character's level and skills, and has an amazing roster featuring popular Sega characters such as Sega's official mascot Sonic The Hedgehog and Adam Hunter from Streets Of Rage.
3. Dragon Ball Legends (Mobile) – There are several significant things about the Dragon Ball Legends mobile game that makes this game different from the three year old Dokkan Battle mobile game:
1) In Dragon Ball Legends, PVP has been implemented and we can definitely enjoy the fun of having intense competitive matches not only against other players, but you can also hook up with your friends and play against them too and I have to say that playing against your friends and other players is much better than playing against random CPU opponents all the time.
2) But in Dragon Ball Legends, the shiny diamond thing on the cards is nowhere present and you can also trigger certain effects on certain cards like when you flick up or down on a Paikuhan "SPARKING" card, you will immediately see behind him Goku and Vegeta fusing into Super Gogeta (which is implied that he will appear in Dragon Ball Legends in the future) which is absolutely badass and it's my favorite "SPARKING" card in the game so far.
3) The gameplay in Dragon Ball Legends, you get to choose 4 cards on the screen between healing, punching, shooting ki blasts, and firing off a super attack. Players can also swipe on the screen to dodge forward, backward, and sideways. One of my favorite things about the gameplay is when an enemy tries to attack you and you attack at the same time, there's a clash mechanic in which both players see a meter and try to tap it when it's full and the player with the biggest meter wins the mini game. And not to mention another one of my favorite gameplay mechanic is when after you select 7 cards with dragon balls on them, the phrase "Rising Rush" will appear on the screen and if you select one of the 4 cards that beats out the opponent's card, then all three characters will fire their super attacks which often leads to your opponent getting KO'ed.
4) In Dragon Ball Legends, the voiceovers are very present in the form of our favorite voiceover actors from Sean Schemmel (Goku) to Chris Sabat (Vegeta) when you hear right before the super attack in particular, you hear the names of Galick Gun and Kamehameha. I'm actually glad that they implemented this feature into Dragon Ball Legends.
5) One of the things that I absolutely love about Dragon Ball Legends is that the stages are in a 3D environment and the characters are in 3D which is very similar to what players see in the Xenoverse series and the 3D stages in this game look absolutely beautiful from the mountains, the plains, to Planet Namek. And of course the 3D character designs like my favorite one Vegeta with the scouter from The Saiyan Saga in particular looks so badass. The 3D character art for this game is so amazing for a mobile game.
4. Destiny 2 (PS4, XB1, PC) – Destiny 2 is an amazing first person shooter game in which the graphics and the gameplay are very similar to that of the old Tom Clancy/Call Of Duty Games. It also greatly differed from other first person shooting games such
1) The game is set not in a post-apocalyptic world, but in a mythical science fiction world instead.
2) The types of modes for Destiny 2 include PVE (player vs environment) and PVP (player vs player).
3) In PVE mode, there are also two different types of modes which are three player strikes and six player raids.
4) There's even a nice cool mode that the developers added to the game which is called "free roam mode" that allows players to roam planets to speak to people, find items, or take on dangerous enemies. These modes are so fun to play.
5. Marvel Future Fight (Mobile) – Earlier this year, I tried out this new Marvel game on mobile that I heard so much about called Marvel Future Fight. It's basically a beat-em-up game with RPG elements added to it that bring more diversity and flexibility to the characters in the game. You can play as over 100 Marvel Super Heroes and Super Villians to create your ultimate team. The game also has a good bonus effects feature that triggers after you build classic teams like X-Men that would either increase your HP, attack, or defense which is a very cool feature that I greatly enjoyed about the game.
Another cool feature that I liked about this game is the fact that not only can you upgrade your characters in Epic Quests, but you can also choose from over 100 of hero/villain uniforms to even increase your character's special powers and change the character's appearance. This game was so much fun when I used to play it even though I don't play it very much nowadays.
The Conclusion – I will always have memories of the great video/mobile games that I enjoyed playing in 2018 and is looking forward to what 2019 will bring in terms of video/mobile games.
Staff Writer; Kwame Shakir (aka Joe D.)