Horror Anime 2018: Top 10 Anime to Get You in the Halloween Spirit.
(AfroGamers.com) For all the horror anime fans, these anime featuring vampires, alien creatures, and mysterious people living among humans are just perfect for your Halloween nights. You can watch some of these horror anime with your kids, but there are some which you should watch alone as they feature everything you can expect from the best horror anime series.
Yamishibai: Japanese Ghost Stories
This anime is based on urban legends and myths which are told in form of short stories. An old man brings his traditional kamishibai on a bicycle to a playground where children listen to his stories. Every week, this old man wearing a yellow mask appears at 5 PM and tells some of the most terrifying quick stories.
The stories are usually 3 to 4 minutes long, but they are very spooky as they increase the tension with sound effects and spooky atmosphere. Some events come as shocks which make Yamishibai: Japanese Ghost Stories so much fun.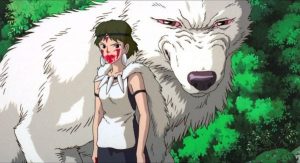 Mononoke
When people think about the best Horror Anime, certain things that come to mind are darkness, blood, sound effects, and shocks. Mononoke is a type of anime that brings you all this in almost each of its stories. There are certain elements that people rarely talk about or simply overlook because of the depth of design.
The anime is so finely detailed that viewers get lost in fantasy and pure entertainment. The vibrant colors and use of different shades of colors in costume and character design make Mononoke a masterpiece. If you're looking for a horror anime for the Halloween week, pick Mononoke.
Shiki
This is a vampire story but it is in no way a typical tale of vampires drinking blood, Shiki is a show of conflict between good and bad. In movies, vampires are glorified a lot and most of the movies present the positive, soft side of vampires' life. Shiki, on the other hand, features a different story.
It's about a village where people are dying and a doctor, who initially thinks that it's happening due to an infection, realizes that vampires are behind the chaos. A young man named Natsuno Yuuki is the suspect and faces challenges due to his nature. If you want a break from typical vampire stories, Shiki is the right choice.
Elfen Lied
Before you watch this anime, remember that it's infamously known for violence, nudity and, gore. These elements may put some of you off, but these elements are needed as the story progresses. Elfen Lied features a story which is intense. Without revealing too much information here, we would say that it is a story about cruelty and feelings of hatred that surround a girl Lucy, who is born with short horns, some mysterious powers,  and telekinetic hands. She isn't doing any good to humanity, but her story is really good and undoubtedly makes Elfen Lied one of the best horror anime to watch this Halloween.
Parasyte: The Maxim
Imagine that you are living with humans, but deep inside you know that you're not one of them. You are not normal because you're "infected" by a parasite that feeds on humans. Based on a manga series, Parasyte: The Maxim features a 17-year old protagonist Shinichi Izumi who is struggling to maintain a balance between two of her different personalities. After a sad event, Shinichi starts living with a Parasyte and the duo works together to survive. They both team up against Parasytes who know that Shinichi's brain is still intact.
These are the five horror anime you can watch during the Halloween week, but if you're looking for more, you can watch Tokyo Ghoul, Serial Experiments, Black Butler, Another, and Boogiepop Phantom for more spine-chilling stories.
Staff Writer; Jay Baker
Have any Gaming Tips? News? Hit up our Video Games Guru at; JayBaker@AfroGamers.com.