5 LGBT Anime That Everyone Needs to See.
(AfroGamers.com) Finding good LGBT anime wasn't easy a few years back. Thanks to the increasing adaptation of such series that now there are many options available to choose from. We have compiled a list of LGBT anime everyone should see. From thought-provoking anime to some of the most emotional stories, this list has something for everyone. So enjoy watching them and if you want to read their original manga series, do it without giving a second thought because these five LGBT anime deserve to be on your list.
Whispered Words
Based on a Japanese Yuri manga series, Whispered Words is a story of two schoolgirls named Sumika Murasame and Ushio Kazama. They are best friends, and Sumika secretly loves Ushio but is unable to confess. Ushio likes girls, but she spends her time with those who are cute and small. Sumika is a tall girl and she thinks that she is not the type of girl Ushio likes. Since they study in a co-ed school, there are some interesting twists in the story that make it worth watching.
Why should you watch it?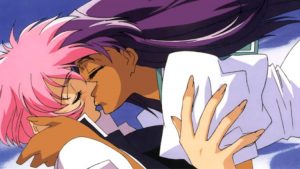 Because you'll rarely see an anime depicting the loneliness of a person who loves someone but doesn't get loved back. It's a story that many people can empathize or relate with.
Sweet Blue Flowers
This is a story of a lesbian girl Fumi Manjōme who meets her childhood friend Akira Okudaira. Akira is a fun-loving girl and she is always ready to help people. The story is heavily focused on the impact of first love on an individual's life. Sweet Blue Flowers doesn't show yuri anime elements in a disgusting way, while other anime are filled with such things. In simple words, it's more about the purity of love, friendship, and acts of kindness.
Why should you watch it?
Sweet Blue Flowers anime shows you the meaning of love no matter what your gender is and who you fall in love with. The anime can easily make you fall in love with it.
Wandering Son
People have different opinions about this anime. Some find is soul crushing because of the way it ends, while others appreciate the fact that the anime reveals how media portrays trans people. Wandering Son s a story of a feminine boy Shuichi Nitori and his boyish friend Yoshino Takatsuki. These teenagers struggle as they learn how unfair and challenging it is to deal with body dysphoria.
Why should you watch it?
Wandering Son shows how badly teenagers can get affected when they struggle to learn about their actual identities.
Sailor Moon
The Japanese version of this Anime is different from what Americans get to see. So if you're thinking about allowing kids to watch this anime, make sure that the cultural differences don't spoil the fun. Sailor Moon is about powerful young girls and in English dubs, many changes were made. The anime shows young girls fighting for their friends and for their own rights. Its heavy focus on romance can easily make young girls relate to the characters.
Why should you watch it?
The show teaches girls that they can be strong, they can fight for their loved ones without having to be cruel or violent. It can inspire girls by showing them how they can choose their role model.
Love Stage
The anime features "boys love" in a very unique way. Regardless of your sexual orientation, you can enjoy Love Stage for a great dose of romance. The story features a perfect mix of emotions and comedy. At certain points, the story feels little uncomfortable, especially in the moments where multiple attempts of forced sex are featured. Other than that, there's hardly something you won't enjoy.
Why should you watch it?
Love Stage doesn't feature a heavily constructed story. It does offer an emotional ground to the characters, but the story looks complete even with humor playing a major role in the series.
Staff Writer; Jay Baker
Have any Gaming Tips? News? Hit up our Video Games Guru at; JayBaker@AfroGamers.com.