10 of the Best Black Comics Set To Dominate 2018.
(AfroGamers.com) Black comics have always been around for years. Talented writers, illustrators, and fictional superheroes have dominated the black comic book space for a long time. In this post, we have listed 10 of the best black comics you must read in 2018.
Abbott
The black comic book Abbott will be out in October 2018. It features a black female protagonist Elena Abbott. She has lost her husband and everyone she loved. Abbott is a chain-smoker, a reporter who is trying to uncover crimes ignored by the police department. She knows that there are occult forces working in the city and they are responsible for her husband's death. Abbott is on a mission to destroy them in this crime thriller.
Bingo Love
Two strong African-American women that hide their feelings for each other finally meet after years. After going through a lot of pain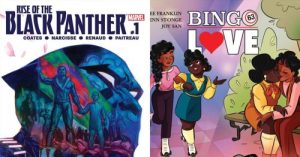 and social injustice they meet coincidentally They belong to that part of the LGBTQ community which was not accepted by their families and they were forced to spend life without each other. The journey of these two beautiful lovebirds who come out of their families to preserve their feelings for each other can is worth reading.
Moon Girl and Devil Dinosaur
Want a good comic book for kids? Moon Girl and Devil Dinosaur is one of the best black comics you can gift them. Moon Girl is a kid with inhuman gene and that's the reason she feels threatened. The girl meets a dinosaur when the giant monster chases a group of people called the Killer. While dealing with her normal life at school, she ends up partnering up with the dinosaur. The comic book features the conflict of thoughts and good vs evil concept in a unique way.
The Wicked + The Divine
Since its arrival in stores in 2014, The Wicked + The Divine comic series has given us many things to get excited about. From pop stars appearing in incredible ways to characters from mythologies justifying their presence, the story in the comic series has a lot of twists and turns. It's a perfect movie material.
Black Lightning: Cold Dead Hands
With Black Lightning: Cold Dead Hands, the series creator Tony Isabella has given the black character Jefferson Pierce a complete reboot. The creator has broken the series's 40-year old pattern and released a six-issue series. Now the character, in his electrical form, is almost invulnerable as he can't be poisoned or hurt from physical objects thrown at him.
Motor Crush
Do you love motorcycle racing? This comic book is for you and it's pretty fun. The team that worked on several other titles like Batgirl aims to attract an older audience with this masterpiece. Domino Swift is the main character in Motor Crush. She is a young woman with a passion for racing and violence. She also has a white lesbian partner Lola del Carmen and the story is interesting.
Falcon: Take Flight
Originally released in July 2018, Falcon: Take Flight features Sam Wilson and his new partner, Patriot. As Wilson trains his partner, he finds himself in the middle of a fight as gangs try to overtake the streets in Chicago. In order to connect himself again with American people, Falcon manages to fight against a demonic enemy Blackheart. Falcon: Take Flight is a mini-series of eight chapters.
Wildstorm: Michael Cray
One of the best assassins in the world, Michael Cray can be seen fighting not only against enemies but he also battles a deadly tumor. Cray is known as Deathblow, but in this new Wildstorm piece of art, his approach looks bit different. Smart dialogues, some emotional twists, and a story filled with suspense make Wildstorm: Michael Cray one of the best black comics.
The Terrifics
It's entertaining and even if it feels stupid because of the team of not so popular heroes, the story keeps you busy. At some point, the comic book feels like you're reading something about the film Fantastic Four. The unique superpowers of each character and dialogues are little more out of the box and many people will appreciate the uniqueness and fresh ideas brought in by the writers.
Black Panther
The new Black Panther issues are action-packed and suspenseful in a true sense. The writers have created some very interesting questions that set the mood and right tone. The first issue draws people into the galactic world. Some scenes stand out well and storytelling keeps you hooked. The previous series was stuffed with so many things and hardly some of them worked out well. This time, the new Black Panther series is more fun and it's highly recommended among all the best black comics that are ready to dominate 2018.
Staff Writer; Jay Baker
Have any Gaming Tips? News? Hit up our Video Games Guru at; JayBaker@AfroGamers.com.