Warner Bros vs Disney vs Hanna-Barbera: The Original Animation Domination.
(AfroGamers.com) There were several U.S animation studios formed during the black and white era of film and television. The most notable were Warner Bros, Disney, Fleischer, Metro-Goldwyn-Mayer, Universal, and Hanna-Barbera. Of those, Warner Bros, Disney, and Hanna-Barbera had the longest influence and were able to continue producing popular animated shorts, shows, and full-length features.
We're going to look at these three and determine which is truly the best film and shorts studio.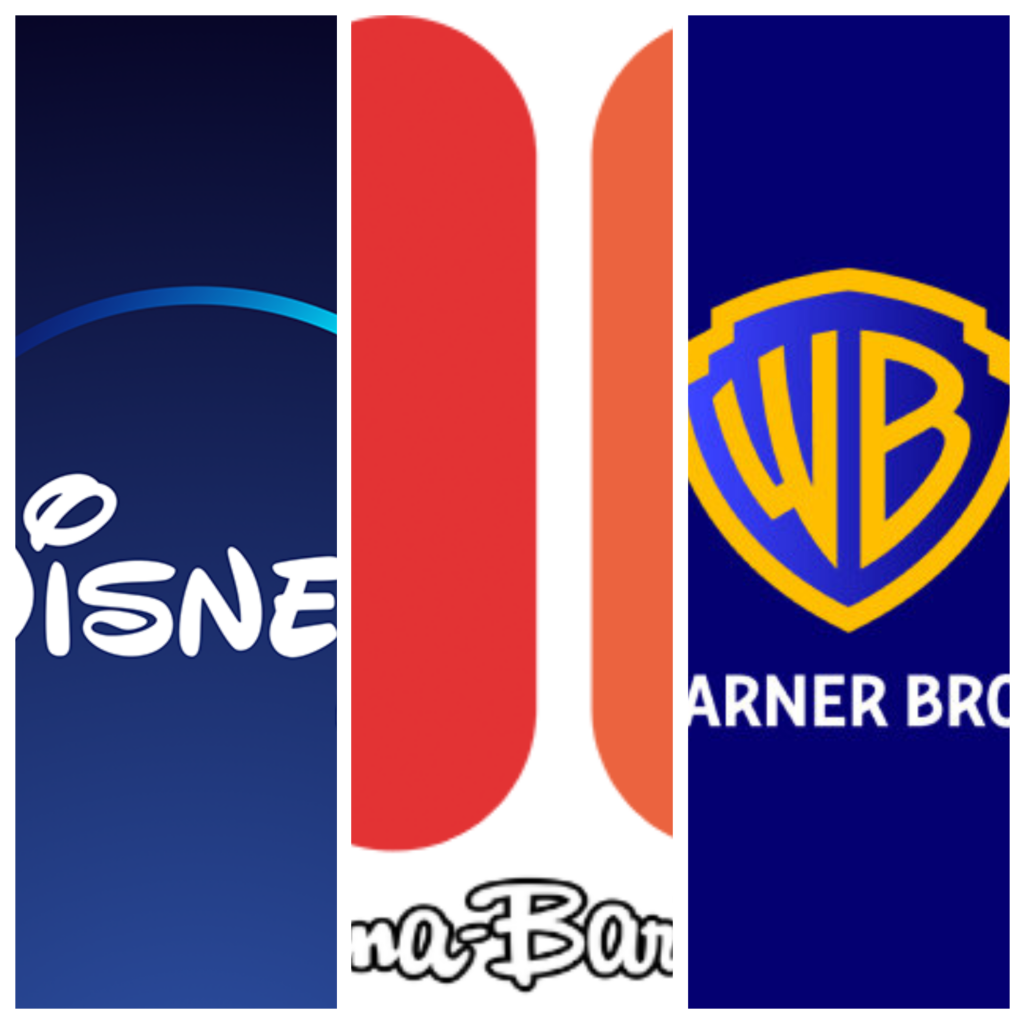 Hanna-Barbera
The youngest of the three studios we're looking at, Hanna-Barbera was formed out of MGM closing its animation studio in 1957 after 20 years. While with MGM, William Hanna and Joseph Barbera created Tom and Jerry. When the duo struck out on their own and began building up H.B Enterprises—later Hanna-Barbera Productions—cartoons were still in it's shorts phase for the most part.
Going a different route, HB would begin producing cartoons in 1957 with their first success coming via The Huckleberry Hound Show in 1958. What was different with Huckleberry Hound is that it was more of show that had a slot as the lead-in to prime time. There were different shorts to make up the show and it gave the studio its first Emmy.
It also served as a blueprint for the animated sitcom with the studio creating the award-winning The Flintstones in 1960, the first animated sitcom to air during prime time on ABC. Hanna-Barbera would produce other classic cartoons such as Scooby Doo, The Jetsons, The Smurfs,  Jonny Quest, and so on before being purchased by Turner Broadcasting System in 1991. Ten years later, it was closed down and was purchased by Warner.
HB's strengths were in series and volume. The studio produced full-length features but it was closer to Warner Bros in that it was a very strong studio when it came to holding a TV slot with its programming. Not only that, HB material was the main material floating Cartoon Network throughout the 90s and morphed into the Cartoon Cartoon model shows that worked so well in the 90s and 00s.
While Hanna-Barbera never got it done with animated film and most of their stuff was very much direct-to-video, the studio had a Warner Bros-like roster of TV series spanning decades and laid the seeds for newer series and CN Studios/Ghost Planet Industries, and Williams Street—studios that defined the decade in a way Disney and WB didn't.
The main way is that it produced cartoons for kids, all-ages, and for what is supposed to be an adult audience. Disney and WB lean heavily into modernizing their classics with Disney not going all in on giving the characters updated personalities or putting them into situations like WB does with Looney Tunes. Then again, Cartoon Network being 24/7 made it necessary to create new classics in the 90s and 00s.
Strengths: Volume of shows, influence on animation in the 1990s into the 2010s, embracing modern times, ability to produce new content rapidly
Disney
We all know Disney, most of us have grown up on the company's films and TV shows. It's the House That Mickey Built. It's the main reason we're not going to dwell on Disney and Warner Bros as they're still active and better known as brands. The company gave us the likes of Mickey Mouse, Donald Duck, the Mickey Mouse, Donald Duck, Snow White, Lion King, and Fantasia among others
While the company is a powerhouse in classic animation,  Disney's strength has always been in film. The company can really produce an animated classic that will hold up for generations after its release. That isn't to say that Disney can't do shows, it's very capable but the classic shows tend to be movie spin-offs.
See, the stuff with their OGs Donald and Goofy tend to be good. DuckTales and Goof Troop are bona fide classics. However, if you really want to present Disney toons in a discussion or 'debate' about cartoon classic shows, you have to include spin-offs such as Chip n Dale: Rescue Rangers, Darkwing Duck, Timon & Pumbaa, The Emperor's New School, and other 90s and 00s series. There were a few originals like Recess and Bump in the Night which aired on Disney-owned ABC as well but those shows are rarely mentioned as Disney toons.
And that's just so that Disney has a comparable pool of shows to Hanna-Barbera and Warner Bros. Again, Disney's strength was more in film than shows but those series produced some great, memorable shows. Also notice that studio ace Mickey Mouse never popped up while discussing shows. Not good.
I believe one reason is that Disney's cartoons never went as hard with the comedic violence like Warner Bros, MGM, and HB. Having content primarily targeted towards kids can be restrictive creatively and tends to result in stale characters and shows. A studio can mix up the series but Disney tends to be protective of its OG characters—especially since those characters print money.
Strengths: Animated film game, main character roster, spin-offs, influence on animation, high animation quality
Warner Bros
Of the three studios, Warner Bros is closer to Hanna-Barbera—which explains why WB purchased HB and why we see HB successor and WB characters on the same network today. Like Disney, Warner Bros is well-known in animation and entertainment. It also delivers quantity animation. Like HB, WB leaned into producing for television.
Warner Bros is something of a hybrid because there was a period in the 90s where the animation for shows that were only going to be around for one season wasn't so good. Then WB, HB, and Disney came in with these well-animated, great looking cartoons.
When it came to the actual comedy in a show or drama, WB had that down pat. Again, it's a hybrid because HB was strong with comedy while Disney could tug at your heart strings but the comedy was wholesome and comedic violence from or between sociopathic characters has always dunked on wholesome, whimsical comedy in cartoons.
Warner Bros does take the Disney approach of keeping your classic OGs relevant by pulling them into modern times but it does a better job with shows like Tiny Toons where the OGs are teachers to a new generation of cartoon characters, Taz-Mania which focused on the Tazmanian Devil (Taz) and his family, and The Looney Tunes show where the OGs are modern day adults and the original music element of Merrie Melodies returned.
However, it also embraced other licenses—many of which were absorbed—such as DC Comics series. In the 90s, Warner Bros was producing on par with HB/Ghost Planet Industries/Williams Street/CN Studios family after the HB collective flooded 1960s-1980s television with series. In addition to Taz-Mania, you have Animaniacs, Pinky & The Brain, Batman series, Superman, Static Shock, Freakazoid, and many more. Not only that, but WB could get it done with spin-offs as is the case with Animaniacs and Pinky & The Brain as well as sequel series such as Batman-Batman Beyond and the Justice League shows.
Strengths: spin-offs, sequels, volume, quality animation, shows that can fill TV blocks, vast OG roster, fluid modernization of OG
Now, I'm more of Warner Bros and Hanna-Barbera fan because I grew up in the 90s and those two studios flooded TV in the early 90s with toons. When it came to Disney, it was mainly to see their movies but their presence on TV was never as great or enticing as WB and HB. Plus, I've always been bigger on TV than film because I like the flexibility TV allows in case a season starts out meh, it can possibly rebound by the end of the season.
That's another discussion. What's your favorite of the classic animation studios and what were some of your favorite shows, animated films, and shorts from them? Also, what studios of 90s would you like to see compared to Nickelodeon Studios?
Let us know in the comments!
Staff Writer; M. Swift
This talented writer is also a podcast host, and comic book fan who loves all things old school. One may also find him on Twitter at; metalswift.