5 Head-Scratching Observations of Donkey Kong Country.
(AfroGamers.com) Let's take a look at another retro title and ask some logical, critical questions about the Donkey Kong franchise. Yes, it's another trip into stuff that doesn't make sense with Nintendo!
Actually, it made more sense than a lot of the Nintendo and Super Nintendo Super Mario games—once you get past the first two Donkey Kong games. Let's get into it.
Where in the Hell Did Pauline Go?
For those who never played DK and Donkey Kong Jr—and I don't blame you if you skipped them—you play as Mario in the first game. DK kidnaps a woman named Pauline who is…well, she's just a friend of rivals Mario and Donkey Kong.
While she returned as more of a regular in the modern Mario vs. Donkey Kong minis games, there was a period where she was just gone with Peach (Princess Toadstool), Zelda, and Samus becoming significant female characters in the Nintendo family of games.
Actually, even Wendy O. Koopa became more of an important character than Pauline and she was basically the catalyst for launching both the Mario and Donkey Kong franchises. I mean, Mario's main thing between 1981 and around 2006 was saving damsels.
When he wasn't doing that, he was either partying with his rivals, racing them, or living a lie as a doctor.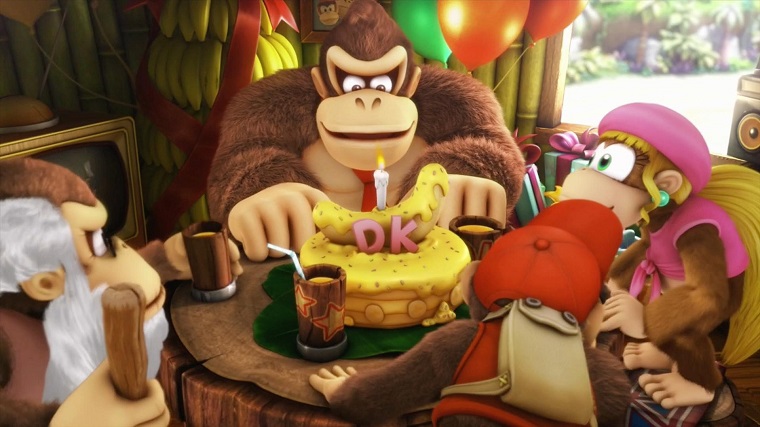 Donkey Kong Is a Title?
I've finally accepted that the name "Donkey Kong" is actually a title passed down from father to son. Or at least down from leader to leader since DK is the leader of the Kongs.
Those who aren't leader have to accept some other name ending in "y" or "ie" like Diddy Kong, Funky Kong, Candy Kong, Wrinkly Kong, Dixie Kong, and that one Kong in the onesie.
The thing is, there are a ton of Kongs in the family but only the ones directly related to the O.G Donkey Kong (Cranky Kong) and his wife, Wrinkly Kong get the name…which is weird that someone named their child "Wrinkly".
This leads to the next thought I've had on the franchise:
So, Is Donkey Kong Jr Just Dead or…?
You have Cranky Kong who was the original DK from the 1981 game that debuted Super Mario. He makes his appearance as the aged patriarch in Donkey Kong Country on the Super NES.
Then you had Donkey Kong Jr. This guy made his debut in the 1982 Game & Watch version of DK but is probably more recognizable as the star of Donkey Kong Jr where he has to rescue his father (now Cranky Kong) from Super Mario.
The most recognizable of the three DKs is DK Jr's son Donkey Kong III—known as just Donkey Kong. He made his debut as protagonist of Donkey Kong Country in 1994 alongside nephew Diddy Kong.
While Junior was in plenty of games, he was never the star of his father or his son. He was so middle of the road that we haven't gotten a modern version of the character unless you count his appearance in DK Land.
So, what happened to him? Is he dead? Banned from Donkey Kong Island? What? Honestly, if he made a return as an ally of Bowser against Super Mario and a reluctant DK—similar to Oswald vs. Mickey in Epic Mickey—I'd totally rock with that heel turn.
It's not unheard of for a Nintendo good guy to die—such as Wrinkly Kong—but it is rare. What's weird is that he's just not really mentioned anymore. I really think he would make a good boss to any Nintendo character if you consider Kid Icarus was able to make it out of the Nintendo Gulag for Characters.
Is DK Island Just as Poorly Defended as the Mushroom Kingdom?
On the one hand, there's no excuse for the Mushroom Kingdom to get clapped as often as it does by Bowser. It's a whole kingdom with allies but this unrecognized king just regularly runs roughshod on the kingdom.
Then we have Donkey Kong Island which has a unified family of Kongs who just can't seem to check the Kremlings. It's to the point where the Kremlings outnumber the Kongs. How does that happen and why are there always just two Kongs sent to deal with these problems?
I'm sure it's same reason why there is either one or two plumbers who deal with Bowser, his Kooplings, Koopa Troopas, and a flotilla of airships. When you think about, K. Rool and the Kremlings are also better armed than the Kongs!
There's an RPG idea right there that Nintendo needs to collab with Square Enix on. Just release it with Mode 7-style graphics and a respectable price.
What Did the Manky Kongs Do to Get Exiled?
I like that when Rare began making games using Nintendo IPs, there was some backstory there as to why all these enemies exist on the island. They're just all part of the island's eco-system.
However, the Manky Kongs are a mystery mainly because no explanation was given as to why they were exiled from the Kong Family. They are definitely worse for wear when compared to the other Kongs.
Is there a dark side to that story? Nintendo tends to be on the lighter side of things but this leaves it open to some dark theories floating between the Manky Kongs being addicts or—even worse—eugenics.
See how dark things can get when even the simplest things aren't explained. Ultimately, it's probably something mundane and safe such as the exiled Kongs being thieves or troublemakers on the island.
Staff Writer; M. Swift
This talented writer is also a podcast host, and comic book fan who loves all things old school. One may also find him on Twitter at; metalswift.