Panels On Screen: Spawn.
(AfroGamers.com) Spawn came about after Canadian artist and writer Todd McFarlane and several other talents left Marvel Comics to form their own publisher in 1992. He created the character in high school and once Image Comics was formed, he needed to run his own series as the other founders were doing the same.
While Rob Liefeld's Youngblood would be the first series launched by the company, Spawn would be the company's anchor and the company's longest running series. The comic also picked up honors from the Guinness World Records as the longest running indie comic.
Needless to say, Spawn is a franchise with a lot of crossover appeal for film. Even better, it has enough canonical material for another animated series or a live action series—both of which McFarlane wants to attempt. Of course, he was successful on both fronts with the awesome HBO series that ran from 1997 until 1999 and the 1997 film.
Todd McFarlane's Spawn on HBO
The series came first and serves as a strong case for my point that comics rock it on TV. Animated, live-action—it doesn't matter. Comics translate better when it has a couple of episodes to get stories translated to screen. Whole arcs can be given the time to sprout, grow, and breathe when working with a season.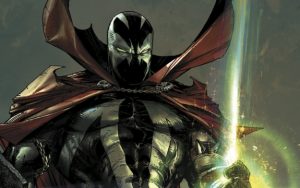 Some comic books do well as either TV shows or films. The Flash or Spider-Man can go either way. Image Comics series Walking Dead was never proven for film but with as much stuff that goes on in the comic and the pace that the writing room treats it with on TV, I don't see TWD translating as a summer blockbuster comic book film.
Spawn translated wonderfully as an animated series. It even retained the art style of McFarlane and Greg Capullo! It was exactly like watching the comic, something that you didn't get from any series in the 90s. X-Men, Batman, and Spider-Man are all favorite cartoons of mine from the decade but they had animation studios with a specific style to handle the style of the series.
You knew that you were watching Batman. It was 100-percent worth sitting through FOX Kids until 4PM to come on. However, this stuff didn't look like it does in the comics. Spawn went for authentic from storytelling, animation, and even McFarlane in his role as show host.
Each episode started with Todd McFarlane in some kind of eerily lit, dark room. It might have been a set that was meant to look like an abandoned church or warehouse. All I know is that McFarlane was there and it was supposed to be dark because the series is dark. Like many cartoon adaptations that run for a while, the last season was a head scratcher.
The 1997 Film
Now, this was mixed. The film started Michael Jai White, my introduction to the actor. I was 13 and wasn't really keeping up with anyone not named Adina Howard or Selma Hayek, honestly. While the film did make its budget back and then some at the box office, it didn't live up to the hype or potential. I'd say there are three reasons for this.
One, Spawn is basically a street-level hero with galactic hero powers. If Image Comics had a shared universe across the imprint for its superhero stuff, Spawn is someone who would be brought in to fight a universal threat. The Dragon from Savage Dragon is the same way. Choreograph the action accordingly—just like Marvel's Blade a year later.
While the visual effects were ahead of their time for the late 90s, I'd say that visual effects weren't where they needed to be in 1997 for superhero films in general—especially if powers, demons, and aliens needed to be depicted.
The other reason is one that most feel is where the film dropped the ball. It was supposed to come in with an R-rating but dropped to PG-13 by the producers. Spawn should've been R-rated. The comic would've gotten the "Mature" or "Mature Readers" label it would get years later. Reflect the comic.
Casting Issue of the Film
That went for the casting too. McFarlane is a white Canadian-born creator but he designed Al Simmons (Spawn) as a Black character who had a Black wife  (Wanda) who married his Black best friend (Terry Fitzgerald) and fellow CIA agent after his death at the hands of Chapel, his friend and another Black CIA agent.
The film would re-cast Terry as white with D.B Sweeney playing him. Also, since there was a rights issue with Chapel, a new character—Jessica Priest—was created film. Melinda Clarke played her and while Chapel would've been awesome, Clarke wasn't bad in the role. The decision to re-cast Terry Fitzgerald was made by the studio because it didn't want an abundance of Black leads to make moviegoers believe Spawn was a Black film.
In the 90s, this is pretty much the kind of decision you'd expect a studio to make. While there were Black-led (and Black-directed) films at the time that became cult films or films of the culture, many of them weren't runaway successes in ticket sales. Most of them—such as my favorites, New Jack City, Menace II Society, Set It Off, and Dead Presidents—made their budgets back and then some. The Meteor Man had a budget bigger than it needed at $30M to Spawn's $45M but only made $8M back domestically.
None of those films really stole the show revenue-wise to warrant sequels or spin-offs. I mean, we got some strong acting performances but studios look at sales and drawing potential. Waiting to Exhale came close enough while 1998's Blade which had a balance similar to Spawn's blew the doors off for comic book films and Black leads in comic book films. It's an honor that should've gone to Spawn since it was actually hot in the 90s.
Staff Writer; M. Swift
This talented writer is also a podcast host, and comic book fan who loves all things old school. One may also find him on Twitter at; metalswift.