Remember Those Holographic Edition Comic Books?
(AfroGamers.com) Now and days, comic book publishers tend to release variant covers for important issues. You know, first issues of a new line, reboots, or issues released during an imprint-wide event. Variant covers really became a regular thing when the comic book issue stabilized then rebounded during the late 2000s. Prior to that there were the holographic covers for comic books.
The Holographic Comic Book Covers
Growing up in the 1990s, holographic everything was pretty popular. Lisa Frank folders and binders, number two pencils, cereal boxes, trading cards, and yes, comic book covers. It was a trend during that decade. The comic book industry started running holographic covers as a means of really selling how limited edition this issue is.
A publisher could pretty much print "Limited Edition" but if it looked like the regular edition issue and had the same content inside why bother getting the limited edition? It's pretty much the same with game releases. You have the base game at $60 then you have a "Pro Edition" or "Special Edition" running for $80 or $90. There's nothing extra in the game, no that's for the "Game of the Year Edition."
You'll get the "Special Edition" and it comes in a special packaging such as a textured box with a poster or a shirt and something else. There was a time when the poster was sometimes expected in the regular edition. The instruction manual is in there go ahead and add a poster.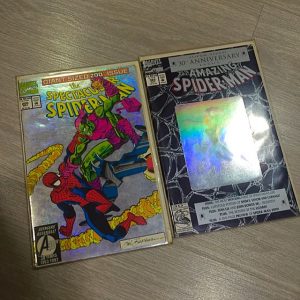 In the comic book industry at the time, nothing extra was added but that cover had some razzle dazzle going on.
What Was Special About These Covers
Anyway, when comic book publishers did this, it was pretty cool—visually. The books themselves we're special unless you were a fan of that comic and heavily into that story arc. As for the covers themselves, you had a few kinds. The first was just the cover's title text having that cool holographic effect or some kind of mirror/silver effect. There were a few X-Men and Avengers comics from this time with this effect.
The other was the full cover or feature cover. As it sounds, full cover holographic covers featured the whole comic with this effect. The feature had a part of the artwork in holographic-style. They really caught your eye on store shelves instantly because they stood out among the regular covers. I mean even against covers done by Alex Ross or Greg Capullo.
The Damage of These Comics
Comic book fans were collecting books since there have been books to collect. The industry was pretty shaky early on before going full blown catastrophic before the decade was out. Saturation was the main culprit but creative and editorial decisions contributed to this greatly as well. On top of that, publishers such as Marvel deciding to handle distribution themselves also shook things up for the worse.
Holographic covers come in along with variant covers and limited edition comics. The industry at this time wasn't able to tank anything extra. These special editions were expected to up the sales because collectors were expected to either get the limited edition and a regular edition or buy several special editions. However, it's not so much a special edition if a ton of them were printed.
As you probably guessed, there were a ton of holographic covers and even more special editions for these big story events and debuts. People who collected purely to collect and resell the comics didn't know that publishers tend to roll back story decisions regularly. It's very rare that a character just stays dead or remains powerless in comics. The late 80s and the 90s were a big period for significant deaths such as The Death of Superman.
Collectors saw this large flashing piece of razzle-dazzle, scooped up a bunch of special editions thinking that they would spike in price, and things just went downhill. Of course, holographic covers were just one of the factors that caused the bust in the 90s. Since then, the industry learned its lesson and something soft as variant covers haven't done harm.
Or rather, they haven't caused harm yet. It just takes one publisher coming up with a promotional gimmick that readers really dig for other publishers to jump on.
Staff Writer; M. Swift
This talented writer is also a podcast host, and comic book fan who loves all things old school. One may also find him on Twitter at; metalswift.