Stormland Release Date, Gameplay, and Everything You Need to Know.
(AfroGamers.com) Stormland is coming this year and for this expansive VR game, Insomniac Games has teamed up with Oculus Studios. Unlike other VR games, Stormland focuses more on open world structure and exploration. You can also relate this game to The Legend of Zelda: Breath of the Wild, and aesthetically, it reminds of No Man's Sky and some classic animated films. Here's everything you need to know about Stormland gameplay, release, and features.
Stormland Gameplay Features
In Stormland, players control an android that is shattered and is trying to save other robots. The sci-fi co-op shooter puts players in a fantastical world where they explore, collect resources, upgrade weapons, find loots, and fight to survive. The gameplay is focused on player choices and according to Insomniac Games, the world will constantly change and give you reasons to come back.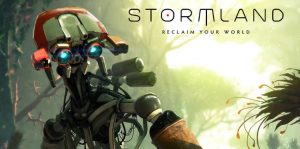 When asked about the nature of the gameplay, Insomniac Games confirmed that the game will combine story missions, exploration and survival elements. The developer also confirmed that the world in Stormland is vast so you can go anywhere within the limits of the map and the world will be changing itself over time. Players will be able to explore areas with traversal which means you can reach anywhere through movements such as climbing, sliding, walking and gliding.
The core idea behind map design for Stormland is it doesn't restrict players. If you've played The Legend of Zelda: Breath of the Wild, you may have noticed that there are no boundaries set for exploration as long as the player doesn't reach till the end of the map's premise. On top of it, there's a bigger story in Stormland which players will follow and mission stories are separate branches of it. If you compare this game with Insomniac's other VR games, Stormland is the biggest VR game they have developed so far.
As stated above, the world in Stormland features procedurally generated environments which means every time it will bring new areas and challenges for combats, exploration, and scavenging. There's a satellite that watches you and it also helps you find out the best upgrades on the map.
The environment in Stormland appears to be badly affected by natural events. The gameplay featured in the previously released videos shows destruction at a large level. The collectibles are shown scattered around the map and as you glide near them, these items are automatically collected. The game allows you to explore its expansive environment where you can use explosives and add more power to your weapons to prepare yourself for combats. You can play solo and if you want, you can bring your friends on boards.
The game features a community of androids which means you can team up with other robots and join others for raids or shared missions. Players can fight in freeform style to overcome the enemy troops. Stormland also allows building up weapons and tech from scratch so you can collect items and use them to strengthen your character.
Stormland Release Date
Stormland is made from the ground up exclusively for virtual reality. It clearly means that the game won't be available on other platforms if they don't support Oculus Rift. According to Insomniac Games, Stormland release date is set in 2019, but the company has not confirmed anything specific about the game's release.
When the game launches, players will control a peaceful gardener that has been lying with its shattered body for centuries. As the journey of players begins, they will be exploring the ever-changing environment and become a part of a heroic adventure. You will fight for your friends and defeat enemies, to bring the world back to its normal state.
Stormland is one of the biggest VR games backed by Oculus Studios. It is undoubtedly Insomniac's most ambitious VR project which is coming at some point in 2019.
Staff Writer; Jay Baker
Have any Gaming Tips? News? Hit up our Video Games Guru at; JayBaker@AfroGamers.com.