Best Gaming Moments of 2018.
(AfroGamers.com) When it comes to picking the best gaming moments of 2018, the job is not so easy. Many video games were released in the last year, and most of them have their best moments. But there are some really great games that made us feel a lot better and also made us ask: is this really happening in a video game? Here are our seven best gaming moments of 2018.
And the Award Goes to – Marvel's Spider-Man
The father of Miles Morales, Officer Davis gets his award from the Mayor and we also see Mary Jane "MJ" Watson and Peter talking about a gang war during the ceremony. Soon after these events, Demons interrupt the event. Mayor Osborn receives a call from an unknown person who issues a serious threat to him. Then we see all hell breaks loose. After bombing the place, Demons start gunning people down, and when the smoke clears, you play as Miles Morales. Completing this mission is not very challenging, but the emotions it brings make it worth playing again. It's the twentieth mission in Spider-Man PS4 and it brings some of the best gaming moments of 2018.
The Blades of Chaos – God of War
The Blades of Chaos scene in God of War is truly incredible. The use of the camera throughout the scene is arguably the best we have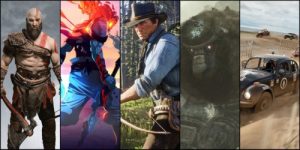 seen in a video game. The camera rotates and slowly takes you forward as Kratos pushes the doors. It perfectly captures the expressions and his feelings of guilt. As Kratos moves his fingers over the blades, we see Athena suddenly appearing out of nowhere and that short talk reveals so much. We see excellent visual effects when Athena disappears. Everything looks different and the music evokes nostalgia and warm feelings.
The Braithwaite Mission – Red Dead Redemption 2
That moment when everybody in the gang leaves what they were doing and they all stand together as a family; it was intense. An adrenaline pumping moment for anyone who played that mission. The gang members, when they get ready for the "war" to bring John's son back, look undefeatable. The horse ride, dialogues, design elements, and everything in this mission is so beautifully crafted and it brings some of the best gaming moments of 2018.
Not enough kicks – Assassin's Creed Odyssey
Every single moment in Assassin's Creed Odyssey is fun, particularly the ones in which you kick humans and animals. Ubisoft has taken Spartan kicks to a new level with these player character movements. In the movie 300, the most memorable scene is when King Leonidas kicks the Persian's messenger into a giant hole and screams "This is Sparta." Now when Odyssey is out, you can do the same not only once but as many times as you want. Some fans have also recorded videos of Spartan kicks in Odyssey.
The Opening – Forza Horizon 4
There's a lot you can say about Forza Horizon 4 as there's so much to do in this game. If we keep the best gameplay moments aside, the opening of the game is one of the best things we saw in video games in 2018. It's calm, it's beautiful. The beats of music are synchronized with the visuals so you can feel it when seasons change. The music and graphics give you the chilled feel just before you hold the controller tightly and start your adventurous journey in the game.
Impressive kills – Call of Duty: Black Ops 4
Inspired by the battle royale games like Fortnite and PUBG, Call of Duty: Black Ops 4 has joined the bandwagon, thanks to the new Blackout mode. BO4 brings the same multiplayer elements we have seen in other popular online multiplayer games, but since it is a COD game, it delivers a unique experience with plenty of impressive shooting and funny moments. It's interesting to see the specialists in their own unique personality that makes them stand out. With the Blackout mode, Black Ops 4 feels new always and that's why there are countless moments to capture in this game.
Driving Widowmaker – Far Cry 5
You drive anything in Far Cry 5 and you'll love it. One of the best vehicles you can get in the game is the Widowmaker truck. The vehicle is good for missions where players are forced to stay on the ground. You can use it to easily wipe out enemies and considering the fact that it can help you break into outposts, it is something that's worth unlocking in Far Cry 5 and driving this semi-truck is fun.
Sure, some of the games launched in 2018 didn't impress everyone, but most of them surely gave us the best gaming moments of the year. With that, many games are coming in 2019 and just like you, we also believe that the best is yet to come.
Staff Writer; Jay Baker
Have any Gaming Tips? News? Hit up our Video Games Guru at; JayBaker@AfroGamers.com.