What Will Be Announced at Blizzcon 2018?
(AfroGamers.com) BlizzCon 2018 is a two-day event taking place at Anaheim Convention Center, Anaheim, CA from November 2. We all have heard a lot about BlizzCon 2018 announcements, and Blizzard Entertainment has already shared some important details about the event. We have compiled a list of announcements we expect to hear at BlizzCon this year.
Diablo III: Eternal Collection
Diablo 3: Eternal Collection is officially releasing on Nintendo Switch on November 2nd. The company will launch the game at BlizzCon 2018 and a Diablo-themed Switch is now also available for order. Blizzard has partnered with Nintendo for this release, so those who haven't purchased Nintendo Switch yet, a Diablo III: Eternal Collection Switch bundle is now available.
Diablo 4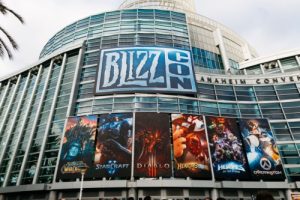 Blizzard has been teasing what Diablo fans have been expecting – Diablo 4. Sadly, the company won't share anything substantial during the BlizzCon event this year. After seeing the hype surrounding the upcoming Diablo game, Blizzard made it clear that the "evil thing" needs a little more time. In a blog post, the company said that it will reveal the details about new Diablo projects "when the time is right". So it's pretty clear that we shouldn't hope for any new details about the next Diablo game.
Diablo Animated Series News
We can't say for sure, but Netflix has been working on an animated series for Diablo franchise. If reports turn out to be true, an announcement for the same might come quite soon. A comic book publishing company's founder Andrew Cosby shared some details in a tweet saying that the company is in "final talks" about a show for Netflix and Blizzard. He later deleted the tweet. Cosby has also worked on the script of Hellboy: Rise of the Blood Queen.
Future of Diablo
There will be a dedicated panel to discuss all things Diablo and the future of the franchise. Blizzard has confirmed that teams are working on multiple Diablo projects. The company will not announce everything at the event, but they have promised that fans won't go home disappointed. Blizzard is planning to showcase a lot of content so it's safe to assume that even if the company doesn't talk about the rumored game, we will at least get some hints about the future of Diablo franchise and we can expect some big announcements from BlizzCon 2018.
Diablo 3 Expansion
Blizzard has clearly told fans that it's not bringing Diablo 4 to the BlizzCon stage this year. It means that they need something fresh other than the Eternal Collection and an anime series announcement. It is less likely to happen, but many fans are still hoping for the last Diablo 3 expansion. If that doesn't happen, we hope that developers will at least introduce a new game mode. They promised many things for the game and some of them are still absent. So an expansion pack and a new game mode can easily fill this gap.
Other announcements from BlizzCon 2018
There are many things Blizzard can announce at BlizzCon 2018. The third major instalment in the franchise was initially released in 2012 and last year, we saw the release of the Eternal Collection which is now releasing on Switch. This collection is a combination of two expansion packs called Rise of the Necromancer and Reaper of Souls.
Diablo 1 Remaster
Some fans are also expecting a remake of some of the old games, particularly Diablo 1 and Diablo 2. We don't know which one would be the first choice if Blizzard ever plans on releasing a remastered version of its existing games. The only thing we know so far is that the company is working on multiple projects and other than Diablo 4, we don't really see anything else than a D1/D2 remaster. There are talks about a new Diablo mobile game, and if it happens, it would be interesting to see how Blizzard manages to successfully run the game with the limited options it has for monetization.
Staff Writer; Jay Baker
Have any Gaming Tips? News? Hit up our Video Games Guru at; JayBaker@AfroGamers.com.