My Favorite Gridiron Football Video Games.
(AfroGamers.com) It's no secret that gridiron football is the most popular sport in America nowadays where fans sitting in the stadium or viewers watching the games on ESPN from either their couch at home or at the bar hanging out with friends.
Despite the vast majority of football fans in this country being white, there are also numerous dangers that come with football: alcohol/drug abuse, womanizing, financial irresponsibility, and severe brain damage from taking so many hits to the head.
Even though I've personally never been too big on watching mainstream college and pro football for 3 to 4 hours on ESPN because to me, that's an unnecessary loss of time for something productive that I could be doing throughout the day.
But however, I've always been very big on playing gridiron football video games on TV because they're much more fun and exciting than to watch a typical boring football game that ends with a blowout.
Here are my favorite gridiron football video games.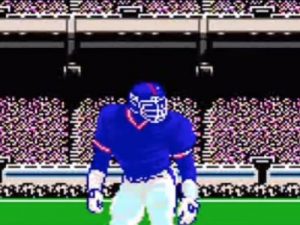 1. Tecmo Super Bowl (NES) – This amazing gridiron football game that came out for The NES in 1991 is my personal favorite gridiron football game because it was so fun, enjoyable, and action paced. A lot of people have stated that Bo Jackson was their favorite athlete from this game, but for me personally, my favorite athlete from this game was Barry Sanders because Barry was more agile and shifty than Bo and like Bo, he was also an absolute beast because whenever you give him the ball, he absolutely shreds and zig-zags his way through defenders and goes full speed to the end zone.
This game was also among the first to actually allow players to make changes to the starting lineup for example you can replace an aging Joe Montana and replace him with a younger QB in Steve Young on The San Francisco 49ers football team. More than 25 years after this game was released, it still has a massive cult-like following to this day with Tecmo Super Bowl tournaments being held around the country each year.
2. ESPN NFL 2k5 (PS2) – When I first played this game during my senior year of high school, I was absolutely blown away by this game because this game had features that had never been seen before in any football game: franchise mode, preparation mode that allows players to make decisions on preparation and training, creating their own football team such as the stadium, team helmets, team jerseys, team colors, and the city. It also had a first-person football mode that allows players the experience on the field from a football player's perspective. ESPN 2k5 actually sold at $19.95 on the day of its release which was much lower than the $49.95 Madden NFL 2005 that was also being sold at that time.
This marketing strategy by 2k had greatly reduced Madden NFL sales so much that an EA developer once commented "that game scared the hell out of us". But because ESPN NFL 2k5 had destroyed Madden NFL 2005 that year in gaming sales that it lead to EA having a monopolistic stranglehold over the NFL video game franchises starting in 2005. It is considered by many to be the greatest gridiron football video game ever made. The success of ESPN NFL 2k5 still haunts EA to this very day.
3. Mutant League Football (Genesis) – I used to absolutely love playing this game during my elementary school days. This gridiron football video game was designed through the use of the Madden '93 engine. This gridiron football game is basically their equivalent to Mortal Kombat because there are several similarities that made this game different from the other football games at the game: the post-apocalyptic football fields where radiation caused the humans to mutate and the dead to rise from the grave. There are also numerous hazards that players will have to avoid running into while on the football field such as land mines and fire pits.
The teams in the game also have vicious nasty audible plays where they can either attack the referee or the opposing quarterback with the intent to kill him. This is definitely the most violent gridiron football video game I've ever played. A remake of the game called "Mutant Football League" is out for the PS4, XB1, and PC.
4. NFL Primetime Starring Deion Sanders (Genesis) – I was such a fan of Deion Sanders back in the day, so when I remember seeing him in a commercial for a new gridiron football video game for The Sega Genesis called "NFL Primetime", I definitely wanted to get that game so bad because I wanted to try it out. When I finally managed to get the game and tried it out for the very first time, I absolutely fell in love with this game because this game was a several miles different and better than the previous gridiron football video game for a The Sega Genesis That I played in NFL '95. In NFL Primetime, players can create their own players, set attributes to those created players with 0 being the lowest and 9 being the highest for example whenever I created myself as a RB for the game I would always choose 9 for breaking tackles and 0 for injury prone.
The hard hitting crunch sounds and crowd noise feature made this game feel so real and the fact I loved to trash talk opposing teams especially opposing quarterbacks by saying "I'm gonna make you eat that ball" or "You're going down fool". Easily one of my favorite gridiron football video games.
5. NCAA Football 2012 (PS3) – Several years ago on a typical day at the crib inside of my room, I would often enjoy playing NCAA Football 2012 for The Sony PlayStation 3 because you can also create your own customized college football team like the stadium, team helmets, team jerseys, team colors, and the city. The graphics and gameplay for this game were absolutely amazing and I also loved the very beautifully detailed camera shots. For Dynasty Mode, changes include a new coaching carousel where players can start as offensive or defensive coordinators and change jobs or get promoted after each season; at the same time, AI coaches will also switch positions or get fired. Crowds will be louder or quieter based on the player's team's success, and how big the stadium is. The ability to create custom conferences has been added; previous versions only allowed one-to-one swaps of teams between conferences; conference membership can also be changed from year to year.
Road to Glory, a game mode in which a player takes control of a prospective college athlete and must practice, study, and play at the level needed to win The Heisman Trophy has been expanded to include an entire high school senior season (past versions of the game only included high school playoffs) and a points and rewards system to increase ratings.You can use teambuilder teams as your high school opponents. Support has been added for two-way players. Once in college, student-athletes can only advance on their team's depth chart (or call their own plays or audibles if a quarterback) when they have earned enough "trust points" from their coach.
The Conclusion – My main excitement from gridiron football always comes from playing gridiron football video games that are much more enjoyable to play that watching a typical 3 to 4 hour college or pro football game on ESPN.
Staff Writer; Kwame Shakir (aka Joe D.)