My Thoughts About Sega Heroes.
(AfroGamers.com) Just this past Thursday, a brand new match 3 type puzzle game Sega Heroes was released for mobile after I first heard about the game online just a week ago and I was excited to get the opportunity to once again play as some of my favorite Sega characters from Sonic The Hedgehog to Adam Hunter from Streets Of Rage.
As we all know, Sonic has been the official mascot for Sega since he first appeared in the 1991 Sega Genesis game "Sonic The Hedgehog" which many gamers like myself considered "the golden age of video gaming" because it brought a different style of gameplay and absolute fun to the video game industry that was different from the previous Mario games that came out prior to Sonic. Even though Sonic has had his ups and downs over the past decade, he still remains one of the most iconic and legendary video games characters in video game history.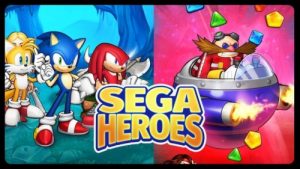 Here are things I like about Sega Heroes;
1. Gameplay – Although gameplay is a typical match three type of puzzle game like Bejeweled and Candy Crush, when you match three of the same color jems like if you match three red stones, then the character representing red will attack the enemy either at random or the one you selected to be attacked by your character. There are also other cool things that happen when you also match three same color jems: Matching four of the same color jems turns it into a star jem that can only be matched with two other same color jem to initiate a special attack called "Star Skill" which dishes out a huge amount of damage against one enemy or multiple enemies depending on the type of "Star Skill" that it is. If you match ten of the same color jems, you initiate a second super attack after the character flashes which dishes out more damage to enemies.
2. RPG Elements – Unlike most match three type of puzzle games like Bejeweled, Sega Heroes also incorporates RPG elements into the game that makes the game more fun and enjoyable to play such as the ability to not only level up characters that you have unlocked after you collected a certain number of shards that are dropped from completing the zone stages, but you can also collect special items called Reagants like shrunken or brass knuckles that can also be used to level up the special attacks of the same characters that you unlocked after collecting shards that greatly helps in making the unlocked characters stronger which I absolutely enjoyed so much about this game.
3. Character Depth – The other thing that I enjoyed about this game is the fact that the depth of characters that were available at launch turn out to be pretty good because there are three different classifications of characters based on rarity. Common characters like Blaze Fielding from Streets Of Rage, Amy from Sonic The Hedgehog, and Axe Battler from Golden Axe. Rare characters like Adam Hunter from Streets Of Rage, Joe Mushashi from Shinobi, and Gum from the lesser known Sega series Jet Set Radio. Epic characters like Sonic from Sonic The Hedgehog, Death Adder from Golden Axe, and Mr. X from Streets Of Rage. And then there are the extremely rare legendary characters in the game like Hotsuma from Shinobi, Lassic from Phantasy Star, and Tails from Sonic The Hedgehog. Amazing selection of characters to choose from to create the ultimate Sega dream team.
The Conclusion – Sega Heroes is a very fun and enjoyable mobile match three type of puzzle game to enjoy that takes you straight back down a trip to memory lane of when you would play and fight against your favorite Sega characters, especially from the 16 bit Sega Genesis Era in the 1990s.
Staff Writer; Kwame Shakir (aka Joe D.)