Spider-Man PS4 DLC Worries Fans: Let's Talk About It.
(AfroGamers.com) Marvel's Spidey is out now and Spider-Man PS4 DLC has got fans divided over the post-launch content release. Some fans have accused developer Insomniac Games of cutting down some parts of the game to sell content separately. While many players are criticizing this move saying it's a "cash grab" scheme, others don't have any problem with the additional content as they are happy that their favorite Spider-Man game will get more content in the future.
If you haven't heard about the Spider-Man PS4 DLC controversy, here's what you need to know. Marvel released Spider-Man PS4 on September 7, 2018, but ahead of this launch, the company announced DLC pack titled Marvel's Spider-Man: The City That Never Sleeps. The DLC pack contains three new chapters in the game. These chapters include The Heist, Turf Wars, and Silver Lining.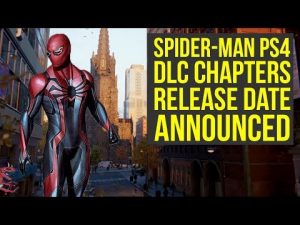 Each of these chapters brings new content and adds some crucial elements to the game's story. The first chapter The Heist will be out on October 23 and it will feature Felicia Hardy as a new character. She is also known by her pet name Black Cat and she will be leaving "clues around the town" to trifle with Spider-Man. More emphasis in this chapter will be put on Black Cat and players will get new challenges and missions. There will be a new group of enemies in Spider-Man PS4 DLC and three new suits will be there to unlock.
Insomniac has not revealed any new information about the Turf Wars and Silver Lining chapters in the City That Never Sleeps DLC. The developer will launch them in November and December respectively. Some fans speculate that the Turf Wars will be focused more on gangs and some of the series's popular villains like Morlun will come back. Since Marvel has a lot of characters at its disposal, it's hard to say which ones they will choose for the next chapters if the game heads in that direction.
The Spider-Man PS4 DLC bundle is available for the price of $24.99 and if you wish to purchase them separately, each chapter will cost you $9.99. Those who purchase the Digital Deluxe Edition will get the base game along with The City That Never Sleeps DLC for $79.99. Some fans said that Insomniac planned these chapters as a part of the core game but later the publisher decided to sell them separately. When the Spider-Man PS4 DLC appeared on PlayStation Store before the launch of the game, it led fans to believe that they are buying an incomplete game and later with the DLC, developers will complete the story.
For 2018, Insomniac's plan for Spider-Man PS4 looks pretty clear as, from September, players will get new content every month. Many people have already spent their time getting furious about the game's DLC plans, but this wasn't enough. Some fans compared the graphics and concluded that there's a significant graphical downgrade from the game's reveal trailer.
If you remember the trailer, Insomniac showed off some combat elements and there was a scene where puddles were visible. The newer screenshots show fewer puddles and water flow and the old one features more. Insomniac clarified the situation by saying that there's nothing like a graphical downgrade and the developer has only changed the puddle size.
Since the game is out now, players haven't observed any kind of compromise with the game's graphics. The game runs pretty well on the PlayStation 4 and there are only minor changes which are obvious because the entire game development process is unpredictable.
As far as the Spider-Man PS4 DLC controversy is concerned, fans have already accepted the theories given by pro Spider-Man lovers. So the fact is if you're buying the Spider-Man PS4 game, keep in mind that the game's main campaign won't take you to the end of the story. You will need those extra chapters to stay around a little longer. Insomniac has also confirmed that they will release a Game+ mode for Spider-Man PS4.
Staff Writer; Jay Baker
Have any Gaming Tips? News? Hit up our Video Games Guru at; JayBaker@AfroGamers.com.