My Experience At The 2018 Gump City Con.
(ThyBlackMan.com) I absolutely love coming to comic conventions because of the amazing atmosphere and vibe that I personally feel whenever I come to a comic con. Also, there are so many amazing sights to see at a comic con from art drawings, cosplayers particularly cosplayers that look like me, and the fact that you can play old school arcade and home console games.
Before I came to the 2018 Gump City Con last Saturday, this brotha stopped at a light while I was at the bus stop until he asked me "Was I waiting on the bus?" and I said, "Yeah" and then he said, "You wanna head somewhere?" and I honestly replied "I wanna go to Cramton Bowl" and he replied "What event is happening there today?" and I replied "there's a comic con happening there today". And the brother told me an interesting story about the car that he gave me a ride in by revealing to me that the car was used by a former college football player while he was in high school and that the brotha and the former college football player's dad are good friends and are gonna fix and remodel the car. He brought me here to the event and I greatly appreciated his generosity in bringing me here to enjoy the special event.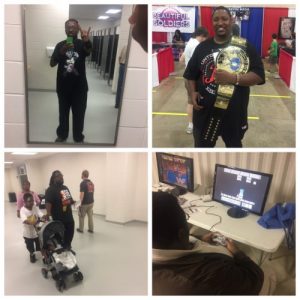 Upon entering The Multiplex, me and my brother were immediately treated to laughs when we saw a shirt with popular My Hero Academia character Todoroki with the slogan "Dentyne Ice" and another shirt featuring popular Dragon Ball character Vegeta enraged with popular slogan "That's My Bulma!!!". Even though we got a good laugh from seeing the shirts, it was definitely nice to see them.
Then me and my brother went around The Multiplex and saw some amazing exhibits like the the plushie dolls from Dragon Quest to Kirby. There were also other amazing exhibits from Harry Potter items, beautiful art drawings, classic comic book covers, jewelry, to mini flaks.
Then I spoke to a sista who is a local comic book artist here named LaShawn Colvin who is the creator of a comic book series called "Beautiful Soldiers" that will come out next year. I spoke to her for a good 15 minutes today.
Here is an excerpt from my interview with LaShawn Colvin
Me: "What was your inspiration behind Beautiful Soldiers?"
Colvin: "I believe in girl power and female empowerment. I grew up being a huge fan of Sailor Moon."
Me: "I remember enjoying watching some of the Sailor Moon episodes myself back in the day."
Me: "I was also a huge fan of The Original Power Rangers back in the day."
Colvin: "I absolutely loved watching The Power Rangers back in the day as well."
Colvin: What video games do you play?"
Me: I enjoy playing Mario and Sonic. I also love playing RPG games the most because they've helped me diversify my skill set in other areas over the years."
Colvin: "I also love playing RPG games as well."
Colvin: "What system do you have?"
Me: "I currently don't have any gaming system because I play video games especially RPG games on Steam."
Colvin: "Okay"
LaShawn Colvin also told me that the four female characters were originally gonna be all black, but I told her that I deeply understand the stigma of having all black characters in comic books and how that can be a tough sell to wider audiences. She told me that she decided to diversity the four female characters to reach out to different ethnicities and one of the four main female characters in Beautiful Soldiers is a beautiful black Caribbean sister that's the most beautiful looking of all four main female characters.
Before I spoke to Kevin Nash, I also got the opportunity to see one of my favorite voice actors in Johnny Yong Bosch who is not only known as being the voice of Ichigo Kurosaki in The Bleach anime dub, but he's also known for playing Adam in The Original Power Rangers after the first black power ranger in Walter Jones left the show due to contract and pay disputes during the middle of the show's second season. Out of all the other guests, Johnny had the biggest line of people waiting to take pictures and speak to him at the event.
And then later on, I finally got to speak to wrestling legend Kevin Nash and asked him some questions.
Here is an excerpt from my interview with Kevin Nash
Me: "Who came up with the concept of the idea of nWo?"
Nash: "It was Eric Bischoff's idea."
Me: "What are your favorite wrestling moments?"
Nash: "Being In the business for 20+ years, I have a lot of them."
Me: "What do you think about the state of wrestling today?"
Nash: "Everything is so live-streamed nowadays because the house show events don't make as much money as they used to. Then WWE is gonna make $50 million from Crown Jewel event in Saudi Arabia.
Me: "It's basically another glorified house show event like The Greatest Royal Rumble and Super Showdown were this year."
Nash: "Yeah, the most interesting thing about having events outside The States is that the wrestlers who are working at these shows don't even get paid for them because the money goes towards WWE and Saudi Arabian officials."
I actually enjoyed the opportunity to finally speak to a wrestling legend like Kevin Nash because he knows far more about the wrestling business as a 20+ year veteran like himself than a 20 year fan of wrestling like myself.
And then I went back upstairs to see this little kid play one of my favorite video games in Sonic The Hedgehog for The Sega Genesis and he managed to actually pass the very first stage without even getting hit by enemies. Pretty impressive to say the least.
Then I chose to play my favorite Mario game in Super Mario 3 and played the entire first world and only died just one time while playing the first world. This shows that I still got it and that my skills haven't diminished after these 25 years as a gamer. After I completed the first world, my brother played the second world and died three times and he decided to log out and play one of our favorite NES games in Werewolf: The Last Warrior where he didn't play very well at all.
After me and my brother played some classic video games, we also checked out the players in the Super Smash Ultimate tournament and noticed that none of the players in the tournament were playing as the popular, but controversial character known as Bayonetta.
The Conclusion – The 2018 Gump City Con was an amazingly overwhelming experience that was very special to me from speaking to certain special guests and taking pictures of beautiful cosplayers that looked like me.
Staff Writer; Kwame Shakir (aka Joe D.)