Fallout 76 is bigger & better than Fallout 4 but its Entirely Online.
(AfroGamers.com) Fallout 76 is the new entry in the popular post-apocalyptic RPG franchise Fallout. The upcoming game serves as a narrative prequel to all the previously released Fallout games. Just like how Bethesda surprised fans with Fallout 4 release, at E3 2018, the game publisher released a trailer and a steady stream of teasers followed.
At QuakeCon and 2018 Gamescom in August, Bethesda shared more details about Fallout 76. Here we have compiled everything you need to know about Fallout 76 including the gameplay, release date, and all the latest news updates.
Some basic details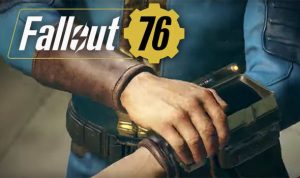 Set in 2102, Fallout 76 puts you in the role of a Vault inhabitant and your only mission is to survive in the post-apocalyptic environment and build a civilization. If you're not familiar with the Vault 76, you should know that it is one of the control vaults which was occupied by 500 people and was planned to open 20 years after a nuclear war. This is not the first time when the Fallout series talked about Vault 76. You can find it mentioned in Fallout 3 and Fallout 4 games as well.
Fallout 76 Gameplay
Fallout 76 is entirely online so you won't be able to play it offline. The good thing is, if you don't want to play in multiplayer mode, you can choose to play solo. What makes the multiplayer interesting is the limited number of players that will be joining you in the world.
The game will run on dedicated servers so each of the players will be allocated a space. During an interview, Bethesda's Todd Howard confirmed that dozens of other players will be there in the game because of the game's nature. As Fallout 76 is set in the post-apocalyptic environment, bringing thousands of players on board is pointless.
In Fallout 76, players are free to build things alone and with friends and there will be very limited restrictions on where they can build things. In Fallout 4, Bethesda didn't give players this much freedom. For the new game, the developers have created six different regions with each having its own unique style and reward system. All the creations will remain available online as long as the player who created them is online. These developments will disappear as soon as the player goes offline. According to the developer, this approach helps in keeping players' progress safe.
Up to three other players can join you in Fallout 76 multiplayer mode and your placement on servers will be managed automatically. It takes away the ability to choose your desired sessions, but if you want to play with your friends, you can join the sessions together. Bethesda has confirmed that it is planning to launch the game on public servers but after the game's release. The developer is considering private servers to improve the gameplay experience. According to Bethesda, private servers will allow players to invite their friends to join the game and the servers will prevent potential issues related to PvP aspects.
Fallout 76 features West Virginia as the main area players will be exploring. Bethesda has recreated some of the real world locations such as West Virginia State Capitol, Woodburn Circle, The Greenbrier, Camden Park, and New River Gorge Bridge. The game will feature an open world which is four times bigger than the Fallout 4's open world.
It's good that players will have many locations to explore but longtime fans would want to see some variety here because, in Fallout 4, there are hundreds of locations but not all of them have a unique style. It would be interesting to see how Bethesda manages these aspects, especially when the open world is so big.
Fallout 76 will not feature any human non-playable characters. That means all the active survivors you will meet in the game will be controlled by active players. So this time, the game will use a combination of NPCs that will guide players and can come in different forms such as robots, recordings, and environmental storytelling. Using the information provided by these NPCs, players will be able to create their own narratives. Howard confirmed that these elements are already present in other games of the series.
Bethesda has confirmed that only those who pre-order the game will be able to join Fallout 76 beta. The game is being developed for PS4, Xbox One, and, PC and it will be released on November 14, 2018.
Staff Writer; Jay Baker
Have any Gaming Tips? News? Hit up our Video Games Guru at; JayBaker@AfroGamers.com.