Doom Eternal: How Different Is the Game from Bethesda's Doom Reboot.
(AfroGamers.com) Doom Eternal, the fifth game in the Doom franchise, is set to take Doom Slayer on new adventures. Like its predecessor Doom reboot, Doom Eternal enhances the classic first-person shooter experience with an advanced game engine which is capable of rendering ten times better geometric details.
We only got to see a brief teaser at E3 2018, and there were no official comments about the gameplay. Well, at Gamescom and QuakeCon events in August 2018, we learned more about the game and we got to see the first gameplay trailer of Doom Eternal. Id Software promised that the development is in full swing and they are not just making a new game, but creating a Doom universe. AfroGamers has gathered all the information about Doom Eternal below to help you find everything you need to know about it.
Doom Eternal news & latest updates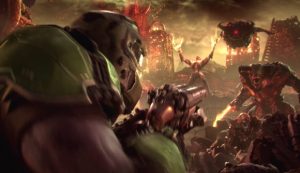 New information about Doom Eternal gameplay is coming more frequently than ever. At Gamescom 2018, Bethesda's Pete Hines shared some new gameplay details. He revealed that players will be able to take Doom Slayer to new locations. The game comes loaded with new enemy types and there are many different ways players can actually kill those demons. Players will get to know more about the game's protagonist and they will be using many new weapons which have been added to Doom Eternal.
Some of the demons that were present in the previous games will also come back with new power upgrades. Doom series games have always featured fast aggressive movements and attacks, and this time with Doom Eternal, Id Software is making the gameplay more aggressive and the movements a lot faster.
Along with the PC, PS4 and Xbox One release, the game is also coming to Nintendo Switch. Bethesda has released Wolfenstein, Doom, and Skyrim on the platform and according to Bethesda, Doom on Nintendo Switch was a huge success.
Doom Eternal Gameplay
The story of Doom Eternal picks up where its predecessor left off. Doom Slayer will be killing demons to stop them from taking control over the planet. He will be searching for a scientist named Samuel Hayden who is responsible for all the chaos.
At QuakeCon, Hugo Martin and Marty Stratton of Id Software revealed that a new game mode called "Invasion" is coming to Doom Eternal. It is a multiplayer mode that is different from 2016's Doom reboot. Invasion allows other players to team up and invade in other players' campaigns.
Game director Marty Stratton describes the new multiplayer mode as a new way to socialize. This new game mode is not an extension to the one we saw in 2016, so it's new, he added. If you have not played Doom reboot, the multiplayer mode in that game allowed players to turn into certain demons for a limited period of time. The multiplayer mode was focused more on traditional deathmatch modes.
Doom reboot was a fantastic combination of classic gameplay concept with modern weapons, graphics, enemies, and character abilities. Doom Eternal follows the same idea and brings back some classic elements with a twist. Some weapons have been modified according to the modern day setting and Id Software used the same approach for enemy types to create a balanced mix of old and new demons. From previous games, monsters such as the Archville, Arachnotron, Zombieman, and Pain Elemental are coming with new demons such as the Doom Hunter and Marauder.
When the company's SVP Pete Hines said they are creating a "Doom Universe," it led fans to develop new theories about how the things could unfold. Doom is one of the biggest IPs Bethesda holds and it wouldn't be a surprise if Bethesda plans more games for the series. There are multiple games available in the Doom franchise and most of these games, particularly the modern ones are well-connected with each other.
At the moment, the Doom Eternal is still in development but both Id Software and Bethesda are focusing on campaign DLC. While speaking about Doom reboot, Stratton said that the studio may look forward to releasing campaign DLC because that's something people really wanted. "They wanted stuff created by us" and SnapMap wasn't enough, he added.
Doom Eternal is in development and it will be released in early 2019. There's no official comment on the game's release schedule for any particular platform. Doom reboot was released for PS4, Xbox One and PC in May 2016 and it was released for Nintendo Switch in November 2017.
Staff Writer; Jay Baker
Have any Gaming Tips? News? Hit up our Video Games Guru at; JayBaker@AfroGamers.com.