5 Influential Comic Book Anthologies to Check Out.
(AfroGamers.com) In the 1950s and 1960s, there were an abundance of comic anthologies. You had EC Comics with Tales from the Crypt, Marvel's Tales of Suspense, and DC Comics' Detective Comics to name a few. Will some of them make our top five most influential comic anthologies?
"Influential" in this sense means if the listed comic anthology resulted in either characters being continued and eventually getting their own series in a comic universe, a publisher or imprint being established, or writers and artists going on to bigger work in the industry.
An "attempt" where there is an anthology but once it ends—usually early—you hear nothing else of the talents at a larger stage or the works created just return to void isn't going to make the list.
We're looking at stuff that was built to last, not stuff that came in last.
Weekly Shonen Jump (1968-)
One of the oldest long-running comic anthologies on this list, Weekly Shonen Jump is definitely the most influential anthology out of Japan and the most influential anthology going now.
Manga readers increased globally as a result of the late 90s anime boom, Weekly Shonen Jump manga scanlations, and eventually the release of Shonen Jump in the West in the mid 2000s.
WSJ had a huge role as it made it possible to follow storylines regularly instead of dealing with the illegal nature of scanlations and not knowing if a studio would continue an anime.
Plus, the number of popular anime franchises that had their beginnings in Weekly Shonen Jump or were re-ignited is not to be overlooked: Dragon Ball, Gundam, Inuyasha, Ranma ½, One Piece, Naruto, Fairy Tail—the list goes on.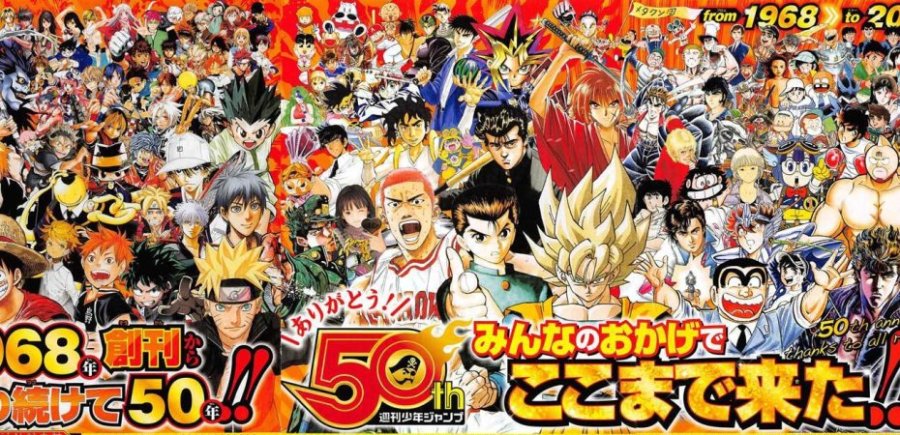 Marvel Amazing Fantasy (1961-1962, 1995-1996, 2004-2006)
This comic anthology underwent several name changes in its time. The series was based around a mix of science fiction and fantastical adventures. In the early 1960s, Stan Lee was the main writer and stories were mainly based off of outlines with artists such as Jack Kirby and Steve Ditko filling things in.
As comic book writing was still very in the "monster/villain of the week" format, the stories didn't need much to fill five or six pages and as Lee admitted, a lot of the comics were created to fill out the rest of other anthologies.
Marvel Amazing Fantasy is influential in introducing The Amazing Spider-Man—who would obviously go on to his own series and spinoffs as well as become the face of Marvel Comics.
Detective Comics (1937-2011, 2016-present)
Detective Comics is where everything started for DC Comics following the National Allied Publications period. Like Amazing Fantasy, stories followed a fast-paced approach ending based around hard-boiled detective tales.
For many comics and comic anthologies before the late-70s and early-80s, you can expect much of the same before a new wave of writers came into the industry. Also like Amazing Fantasy, it was a vehicle for another iconic comic book character in Batman with issue #27 in March 1939.
I suggest checking out those 1930s Batman stories just to compare where the character started and where they are now. The Caped Crusader went from shooting villains—which was a common ending to hard-boiled detective fiction—to advanced martial arts and crime fighting tech over several decades.
2000 A.D (1977-present)
Definitely my favorite comics anthology of all time, 2000 A.D is a weekly series that served as a vehicle for iconic British characters such as the ABC Warriors, Strontium Dog, Slaine, Rogue Trooper, and personal favorite Judge Dredd.
I've talked a ton about Judge Dredd and soon we'll get into other 2000 A.D series but as a whole, this anthology really delivered on the science fiction front—and quite a bit as far as sword and sorcery.
EC Comics Tales from the Crypt (1950-1955, 2007-2010, 2016-present)
Most of us will remember Tales from the Crypt as the HBO series that ran from 1989 until 1996—much longer than I remember, actually. The show is an adaption of a series from the 1950s.
It was known for presenting a more mature form of horror both in content and the writing. Like the Twilight Zone, themes touched on a variety of issues that were considered taboo to address in media at the time.
In the end, Tales from the Crypt and EC Comics as a whole were victims of the Comics Code following the book Seduction of the Innocent as well as the 1954 subcommittee hearing about the impact of comics on children.
Given that EC titles such as Tales from the Crypt and Vault of Horror featured graphic violence—for the 1950s—EC Comics was a prime target as other publishers featured mild violence and often painted the police and government favorably.
Sometimes, keeping it real can go wrong—even in comics.
Today, comics are much laxer and many publishers don't adhere to the Comics Code. This move started in the late-90s with publishers such as Image Comics featuring graphic content.
By the early-2000s, Marvel dropped the Code and with the last decade, we saw DC follow suit. You could say EC Comics was also influential in showing that the Comics Code was almost 60 years of nonsense and publishers could've governed themselves the whole time.
Staff Writer; M. Swift
This talented writer is also a podcast host, and comic book fan who loves all things old school. One may also find him on Twitter at; metalswift.