The 10 Best PlayStation 4 Games of All Time.
(AfroGamers.com) There are a lot of PlayStation 4 games out there, but not all of them are worth your time — some might be too short or sport tedious gameplay. On the other hand, these 10 picks are the cream of the crop. These games have won over critics and gamers alike for their compelling storylines, addictive gameplay, and rewarding sense of completion.
It's hard to imagine a generation of video games without the PlayStation 4. The console launched in 2013, and it has brought something new to gaming every year since then. The PlayStation 4 has some of the greatest games ever created for consoles, and they keep coming out at an astounding rate. However, these games aren't all created equal – you need to know what really makes these best PS4 games stand out from the crowd.
This article takes a look at the best PlayStation 4 games and rates them based on their quality. We begin with the top ten PlayStation 4 games of all time in no particular order, and then we'll move on to other great titles that continue this list of the best PS4 games.
Bloodborne
The first name in our list of best PS4 games is Bloodborne, one of the most challenging action role-playing games ever created for Sony's console. FromSoftware's latest classic combines a dark medieval fantasy setting with intense action sequences, challenging boss fights, and unforgiving difficulty. If you are looking for the best PS4 games of all time, you will be hard-pressed to find more intense action than in Bloodborne.
But despite the game's difficulty, it is also great to play because it is so finely tuned. The combat mechanics are sleek and precise, and the boss fights demand split-second timing. The art design of the game is bleak but beautiful at the same time, and there are loads of secrets to discover along your journey. If you want pure intensity in your games, Bloodborne won't let you down even once.
Dark Souls III
Bloodborne is not the first name in this list of best PS4 games because it is the most challenging game, but because it's also one of the most artistically accomplished games ever designed. Dark Souls III, released in early 2016, was designed by the same studio. As such, it brings all of those great features that made FromSoftware's previous games so popular.
The game includes an in-depth combat system that is hard to master, but simple enough for newcomers to get into. The combat mechanics are also intimidatingly unforgiving, which makes the game extremely hard but at the same time extremely fun to play. Dark Souls III is brutal and merciless, but it's also beautiful and rewarding once you reach the end.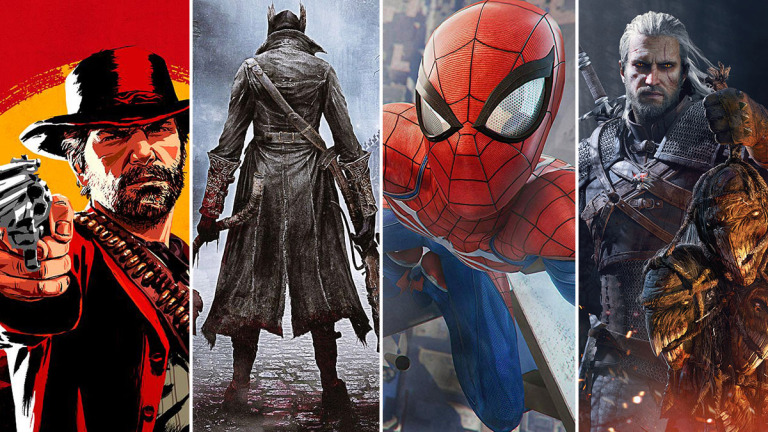 Call of Duty: Black Ops 3
Call of Duty is one of the biggest entertainment brands on the planet, and Black Ops 3 continues that tradition. Although Call of Duty has always been about first-person shooting, Black Ops 3 brings a few innovations to the table, some that you can see in other franchises but none that have been brought to life quite like in this game. If shooters are your thing then Black Ops 3 might be exactly what you were looking for.
The combat is fast-paced and dynamic. Each weapon has multiple firing modes and different ammunition types. The game also features a variety of new movement mechanics, such as sliding, jumping, and even wall-running. The game takes you through a variety of scenarios and environments in which you'll fight in first-person mode all while pushing your skills to the limit.
Batman Arkham Knight
Batman Arkham Knight is the second last Batman game developed by Rocksteady Studios, who previously brought us the brilliant Batman: Arkham Asylum and Arkham City (which are adored by fans).
In an attempt to end the war between Gotham and organized crime, Batman must uncover the conspiracy of who is really behind it all. The story is a continuation from past Arkham titles so there's a lot of stories to be found, so you might want to check this game out if you already played the previous games in the series. Batman Arkham Knight doesn't stray too far from its predecessors. Despite it being the final installment, it gives you everything that made those other games good and secures its spot on our list as one of the best Batman games ever made.
Batman: Arkham City
A completely self-contained sequel that takes place a couple of years after the events of Arkham Asylum, Arkham City focuses more on open-world gameplay. Once again, you play Batman as he fights against the Joker's forces of chaos and crime. Arkham City is a game that goes out with a bit of a bang as well, as it has one of the best endings in gaming and one of the most memorable final scenes that you'll likely ever see. Deviating from Rocksteady's formula, it doesn't lead to another sequel but was enough to give us fans what we wanted.
Fallout 4
Fallout 4 is an incredible entry into the post-apocalyptic hit franchise created by Bethesda Softworks. Like with all of the previous Bethesda games, Fallout 4 incorporates a combat system that's fast and fun, allowing you to pick and choose your own weapons in order to complete quests and find secrets in the post-apocalyptic future. From previous Fallout games, you can expect top-notch gameplay mechanics and immersive writing that brings the world of this game to life. The plot of the game is interesting, with a strong focus on character development and a hint at a larger world beyond this one.
Star Wars: Battlefront
The Star Wars game follows the story and characters of the film but maintains the non-canonical nature of all Star Wars games.
You can play as either the Rebels or Empire in all-out warfare during large multiplayer battles. The good news is that you won't have to wait for an update to play online co-op missions with a friend. As you progress through a normal campaign, the difficulty increases, and more challenges are added so that you really feel like you're part of a galactic war. The game is not only fun but it also features some great graphics which make it a must-have for fans of Star Wars who enjoy first-person shooter games.
Red Dead Redemption
Red Dead Redemption is one of the most popular games developed by Rockstar Games, which is known for creating games such as Grand Theft Auto V and Bully. The game follows the story of a young John Marston who must protect his family and discover new locations throughout the western United States in order to save himself and discover more about himself. Like others in the series, Red Dead Redemption features a large open-world environment full of interesting characters and plenty of opportunities to get lost in its expansive world.
Grand Theft Auto V
GTA V is the latest entry into the Grand Theft Auto franchise and it's also one of the best open-world games ever developed. You play as three characters that each manage to separate themselves from their old lives but are forced together in order to pull off a few heists. You can switch between each character and you can even switch from one vehicle to another within a matter of seconds, making the entire experience feel surprisingly seamless.
Red Dead Redemption 2
Red Dead Redemption 2 is another open-world game but the good news is that this one focuses more on the story than previous entries. Unlike the original, the story of Red Dead Redemption 2 isn't tied to a large multiplayer experience and instead focuses on Arthur Morgan and his outlaw gang's journey across the American West in an attempt to find a safe haven for themselves after being forced out of their home due to betrayal and fights. If you like the previous games in the series, you're going to love this one.
Did we miss your favorite PlayStation 4 game? Feel free to comment below and let us know which PS4 game is your favorite!
Staff Writer; Jay Baker
Have any Gaming Tips? News? Hit up our Video Games Guru at; JayBaker@AfroGamers.com.