Black Voice Actor Appreciation: Cree Summer.
(AfroGamers.com) For many of us—including a 90s kid like myself—Cree Summer was one of the voices of our childhood. Many voice actors have voices that can sound many different characters of different ages or backgrounds. In that same pool are vice actors who have stock voices.
Nothing about their voice really stand out at all and you wouldn't be able to pull them out from background rabble if they were the main character. That's not good. Cree Summer had a voice where you knew who voiced that character.
Only a few other voice actors had that vocal signature: Tara Strong, Scott McNeil, Keith David, and Patrick Warburton. You just know it's that guy or "That woman who did the voice of that other character! She was in that show!" That's why we're going to look at five of Cree Summer's childhood defining animated roles.
Cree Summer as…Elmyra Duff (Tiny Toons, Plucky Duck, Animaniacs)
On Tiny Toons, Elmyra Duff was supposed to be the protégé of Elmer Fudd. She was an obsessive girl who really loved hugging animals a little too much. Actually, she hugged them to the point of harming or killing a couple of her former pets. Cree Summer's grate-y, piercing voice worked for this odd character and made for one of Tiny Toons' most memorable characters on the show.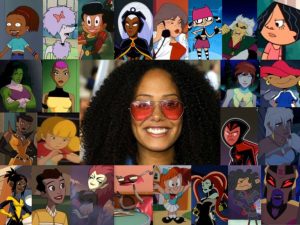 Throughout the 1990s, Cree Summer did a number of cartoons. Two more iconic roles from the time include…
Susie Carmichael (Rugrats, All Grown Up)
When Susie was introduced on Rugrats and served as foil to Angelica bullying the babies, she was the hero Nicktoons deserved. The early 90s was a time when cowardly heroes thrived. Susie Carmichael was the seeing a cool hero or just a cool character for the first time in a while. Unless Danger Mouse was considered cool for Nick.
Hyena (Gargoyles)
Gargoyles was one of my favorite shows growing up. There was something about anamorphic characters that mean "This cartoon is going to get two seasons minimum" in the 1990s. And if you made them superhero-like characters? Like the Teenage Mutant Ninja Turtles? Well, that's just a subgenre of action-adventure cartoon that would thrive!
This cartoon was a little more serious and darker than other cartoons from this half of the 90s. The only one that really comes close is Batman: The Animated Series. Cree Summer's Hyena was one of the strongest characters on Gargoyles. Fun fact: she would deliver a similar performance as Nefertina in Mummies Alive—a show that had a similar approach.
Numbah Five (Code Name: Kids Next Door)
For the 2000s, Numbah Five is Cree's most memorable role. After hearing her throughout the 90s, when she was Numbah Five it was like "She found her long-running role." One, Cartoon Network was running cartoons a little longer than usual at this time. Two, Code Name: KND was doing very well for the network. This would be one cartoon we'd see—or hear—her on for a long time!
Her other role from this decade was a hard one to pick as well. She would do a lot of shows in this time and landed a couple of memorable cartoon and animated film roles. While Numbah Five was the definitive role for the 00s for here, Nickelodeon would give her another one that might go under the radar for some…
Valerie Gray (Danny Phantom)
Danny Phantom was a Nick show that got my attention and earned my time. By the 2000s, there wasn't much to check out quality-wise as far as cartoons went. Disney was doing some things with their cartoons but Cartoon Network was really rolling them out and running them hard during the summer. Danny Phantom was an action-adventure series that was kind of out of place on Nickelodeon but did well for the network.
What I loved about it is that the series was serial. Everything tied in and the story advanced. This wasn't a wacky-zany cartoon. It had a story. That's how Valerie Gray was introduced into the world of Danny Phantom and what a surprise when it you heard it was Cree?
She's a true industry pro who is always in demand. Her voice is one of the standout voices in North American animation. That means that she stays busy and you've probably heard her in a game you've played or a cartoon you've watched this week!
Staff Writer; M. Swift
This talented writer is also a podcast host, and comic book fan who loves all things old school. One may also find him on Twitter at; metalswift.