My Experience At 2019 Sonocon.
(AfroGamers.com)
Note: Prior to the name of this event being changed to SonoCon, the previous name of the event for the past two years was "Gump City Con" actually drew some confusion amongst some people because when people think of "Gump", they think about the film "Forrest Gump" which was actually shot here in Alabama which led to the organizers changing the name to SonoCon which means "that" in Japanese. 
As I approached The North Side entrance to The Coliseum, I was searched and passed and I noticed there were several prison inmates wearing white jumpsuits doing work at a local comic convention like SonoCon was very weird as their labor is being exploited for the benefit of the prison system. Also, I noticed two real female Star Wars fans that aren't fans of Disney Star Wars wearing a Yoda in shades shirt and the other one was cosplaying as Darth Maul from The Star Wars Prequel Trilogy Era. The Duel Of The Fates featuring Darth Maul is definitely one of the greatest lightsaber battles in the history of Star Wars. 
As the weather is a cloudy, but chilly day for SonoCon, the anticipation and excitement is amazing here. As I step foot in The Coliseum for the first time since my youngest brother got his diploma in the building 13 years ago. I got to check out the beautiful shirts, drawings, and other amazing artifacts that they have at this event.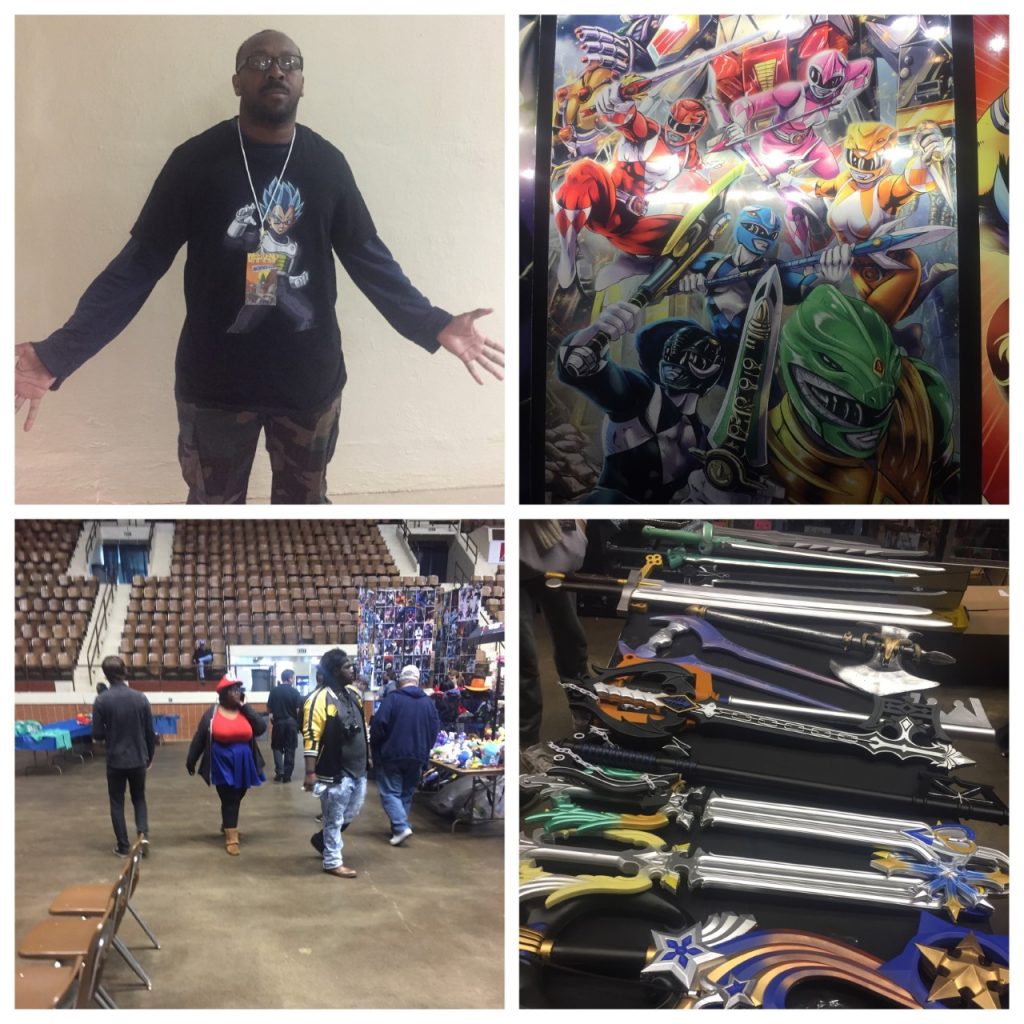 Then I got to check out the special guests and one of those guests was Vic Micgonga, that's been making headlines for BS reasons had many fans lined up to take pictures with him as well as getting his autograph because they have been fans of his voice over work and most famously, the character of Broly from The Dragon Ball Super: Broly Movie which made over $100 million at the international box office. It's definitely a coincidence that Vic was invited as a special guest to SonoCon given that this month is the 1 year anniversary of The Dragon Ball Super: Broly Movie.
Aside from seeing the amazing art, souvenirs, shirts, etc. One of the main things that I love the most about coming to comic conventions is seeing the beautiful cosplayers particularly the ones that look like me like a brother cosplaying as Kakashi from Naruto and even a sister cosplaying as Raven from Teen Titans. 
There were also several gaming tournaments that took place on the first day of SonoCon: Dragon Ball Fighterz, Mortal Kombat 11, and Street Fighter V and those gaming tournaments are very intense with gamers coming from all over the city and The River Region areas
The Conclusion – Overall, SonoCon 2019 was such an amazing experience for me to once again enjoy going to comic conventions and enjoy the sights and geeks that love going to them.
Staff Writer; Kwame Shakir (aka Joe D.)