Which VR Headset Is The Best In 2019?
(AfroGamers.com) When you're in the market, it helps to remember the golden rule of choosing the best VR headset: know what you need. The major players in the virtual reality market are Facebook-owned Oculus Rift, HTC and Valve's Vive and Sony's PlayStation VR. There are many other VR headsets available for smartphones, but most of them fail when it comes to buying a headset for a true virtual reality gaming experience. We've compared all the major VR headsets to help you choose the best and here's what we have found.
To know which VR headset is the best in 2019, we started with the Oculus Rift.
Oculus Rift
This VR headset is a big player in the PC gaming world. Its design, weight, and controllers feel perfect for gaming. In its early days, the retail version of the Oculus Rift was a turnoff for many people who wanted a VR ready solution in the budget. Now with a lower price and accessories including the touch controllers, Oculus Rift is a value for money product.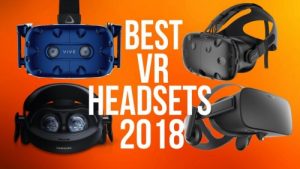 Cons: If you want to experience VR gaming on any machine, you need powerful hardware and compatible software. The Rift demands the same and it's obviously its basic requirement. So if your PC doesn't have the capability to support Rift, it's unfair to blame Oculus. The real problem or concern with buying Oculus Rift is its limited support for gaming devices.
Does Oculus Rift Support PS4 and Xbox One?
If you're a PS4 user, Oculus Rift doesn't support your console and in no way, you can use Oculus Rift with a PlayStation. But if you're an Xbox One owner, there's still something you can do – mirror your Xbox One games on VR screen by using the Xbox One Streaming app.
What this app does is it allows you to play your Xbox One games directly on Oculus Rift. This idea is still not a very convenient one and it doesn't give you the same experience you have with Oculus Rift on PC.
Technical Details: The Rift offers 1080 x 1200-pixel resolution for each eye which means the final resolution is 2160 x 1200 with 90Hz refresh rates. The refresh rate here is high enough to provide a smooth gaming experience while preventing motion sickness. It also offers a 110-degree field of view, meaning that everything you see on screen appears wider and taller enough.
The Oculus Rift ships with a pair of Touch Controllers that utilize tracking technology to set up the right environment for you and enable gesture mapping. These controllers track your motion and work as your real hands when you play games.
Price: The official price of the Oculus Rift is $399 on the company's website, but if you check the price on online retail stores, you can get the VR headset for $349.
PlayStation VR
Sony PlayStation 4 is the most popular home console and the PlayStation VR is an obvious choice for gamers who own a PS4. The VR headset comes in an impressive futuristic design with glowing lights and it feels comfortable when you wear it. The new model of PSVR comes with a complete earphone set, but the weight of the headset is still a turnoff. If we compare it with the Oculus Rift's, the PlayStation VR is bulky as it weighs 600g excluding cables. The Oculus Rift, on the other hand, weighs 470g.
Cons: If we compare the Oculus Rift, HTC Vive and PlayStation VR, Sony's PSVR is definitely the one with the lowest specifications. It offers 960 x 1080 pixels resolution per eye which is 1920 x 1080 overall. It is lower than what the Rift and Vive offer. The field of view is also lower on the PlayStation VR than its rivals from HTC and Oculus. One thing that makes it stand out is the frame rate. You won't notice any input lag on Rift and Vive, but a 120Hz refresh rate on Sony's PSVR is better than 90Hz refresh rate on Vive and Rift.
Does PlayStation VR Support PC?
Yes, it does. Unlike the Oculus Rift, Sony's PlayStation VR can also be connected to other machines including PC. Although the solution isn't perfect, it's good that when you buy a PSVR headset, you're not limited to PS4.
Technical Details: Sony's PlayStation VR definitely rules the market in regards to content. The good thing is you only need a PS4, so there's no need to upgrade your machine for VR games. The PS4 is already an incredibly powerful gaming system and in terms of how the games feel in VR, there isn't any noticeable difference. It is certainly not as good as Rift and Vive in terms of overall quality, but for those who don't want to buy and maintain a gaming PC, the PlayStation VR is a perfect combination of new technology and affordability.
Price: You can find many deals on PSVR bundles that include VR games and accessories like MOVE controllers, PlayStation Camera, and game vouchers. The hardware is available under $200 and the price of PSVR bundles ranges between $250 and $400 in the United States.
HTC Vive
Launched in 2016, the HTC Vive is a premium VR headset that requires a powerful PC. It offers higher resolution and full-motion room tracking and these features make it one of the most powerful VR headsets in the gaming world. The headset is connected to Valve Steam store and if you have the right specs on your PC and also have the budget for a premium VR experience, the Vive is a lot more powerful than the PlayStation VR and the Oculus Rift.
Cons: One thing that's really good and unique about the HTC Vive is it offers tracking for a much larger area which is very important for game developers and players. Games developed for Vive have the potential to track in larger areas and that's how the Vive offers more immersive premium VR experience. From a player's point of view, the controllers are not as convenient as the Rift controllers. You have to point the controller at things and it feels like you're using a TV remote. Controllers on the Oculus Rift feel more natural.
Does HTC Vive Support PS4 and Xbox One?
You may have seen YouTube videos where people claim that you can run HTC Vive on an Xbox One or PS4. The truth is you can't, and even if you try to do so through tools like remote play, the experience won't be good. The Vive hardware is not compatible with the PlayStation 4 or its upgrades version PS4 Pro. You can use Vive on a desktop but the amount of processing power Vive needs is not possible for the PS4 and it's the same case with the Xbox One.
Technical Details: The HTC Vive has an impressive specs sheet. The VR headset offers 1080 x 1200 pixels resolution per eye which is 2160 x 1200 pixels when combined. The refresh rate is 90Hz which is lower than the PSVR, but the field of view is higher at 110 degrees. With accessories like Deluxe Audio Strap, you can enhance the overall VR experience on Vive.
Price: You can buy HTC Vive for $499. There's a Pro version which you may not need but if you want to check it, the starter kit of Vive Pro is available for $1098. As far as the availability of games is concerned, with the Vive, you get the full Steam VR library of games.
Which VR Headset Is The Best In 2019?
Choosing the best VR headset in 2019 depends on your needs. First of all, you should keep in mind that all these VR headsets can give you almost the same gaming experience. The first thing you should focus on is the gaming system you're planning to use. If you are ready to spend your money on an expensive PC and are ready to shell out $499 on a VR headset, choosing the HTC Vive over the Oculus Rift has many advantages. The Vive has better hardware and if you play games on PC, the Vive is more convenient to use.
For console owners, specifically the PS4 users, PSVR should be your first preference because it is developed according to the processing power of the PS4 console. If you don't have a gaming PC or console, and you are planning to buy a VR headset, choosing a gaming system first would be the right approach. But if you want to focus on a VR headset first with a limited budget, choose the PS4 and PSVR bundle to save money. Building a gaming PC isn't going to be easy, in case if you're considering.
Staff Writer; Jay Baker
Have any Gaming Tips? News? Hit up our Video Games Guru at; JayBaker@AfroGamers.com.