10 Gaming Life Hacks You Can Learn Today.
(AfroGamers.com) There are many gaming life hacks and you are probably using most of them. For example, using a loom tube to protect the cords or storing cables in toilet paper rolls. Most of those methods are tried and tested by many gamers. Here we are suggesting 10 more gaming life hacks to make your sessions more convenient and comfortable.
Invest in the right gaming chair
If most of the time you spend in front of the TV screen or PC, make your leisure time more enjoyable with comfortable gaming chairs. In the local market and online stores, you can easily find gaming chairs but don't go for the high-tech features they offer. Think about more value for money and most importantly, choose a comfortable chair which is affordable.
Optimize your system's settings
If you're using a console, make sure turning the "Game mode" on. Many TV sets support game mode and when you enable this option under your TV's display setting, you will get better quality visuals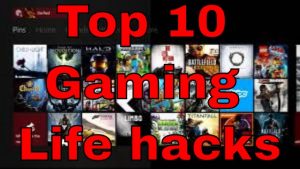 for the games you play. That way, you can not only decrease system lag, but you can also expect superior quality pictures and detailed graphics. If you play games on your PC, check if the monitor has a dedicated option for gaming. It will improve your overall gaming experience.
Fine tune your input device's sensitivity settings
If you're playing games on PC, you're likely using mouse and keyboards. Some gamers even buy accessories designed for games such as joysticks and controllers. Most of the games you play allow you to set up controls. In the settings option, you can find sensitivity, acceleration, and several other options that can improve your gameplay.
For example, zoom sensitivity and mouse sensitivity in shooting games can help you aim better. Instead of using default settings for your devices, try to play your games at different settings and choose the one you're comfortable with.
Hacking your Wii
If you have a Wii, hack it for homebrew apps. You don't have to buy any software or drivers, as all the tools are available online for free. All you need is a Wii console, a computer, and an SD card. Make sure you understand the risk of hacking your gaming system, and if you are ready to use apps that are not originally designed to work on Wii, this hack can make your gaming experience much better. There are many retro games the Wii does not natively support, but after hacking your system, you can play those games. We do not recommend any particular software, but you can easily download them and try at your own risk.
Use gaming as a reward
Are you chasing some health goals or trying to cut down game time? Use gaming as a reward and you won't feel that you're spending too much time on games. Do anything you want to do and treat your gameplay time as a reward for achievements.
For example, promise yourself that you will not play games until you complete a particular task or exercise. If you're missing important moments in your life just because of games, add a touch of self-discipline by treating games as a reward.
Sign up for beta
Before you pre-order a new game, try it by signing up for beta and test the game. It's obvious that games tend to have more bugs in the beta builds and pre-order bonuses are a great way to save money on post-launch content. The fact is, many games don't turn out to be worth spending $60 or more.
Beta sessions can give you an idea of how to set your expectations right. If you have been waiting for a game for a long time, and if it's a big title, it's worth spending money on it, but if you can wait for a few weeks, you can expect to buy the game for less than its original price.
Smart button mapping
If you are on Xbox One and the game you're playing doesn't have any option for remapping the buttons of your controller, this is a small tip you can use. On your console's setting, go to Kinect and devices option and select devices and accessories. From there, you can change the controls and set all the buttons according to your preferences.
Most of the game these days have a dedicated option for players who want to customize the controls, especially the games that are available on PC, but on Xbox One, you can try this method to remap buttons.
Night mode on Nintendo Switch
The eShop and games look great without the blue light filter on Nintendo Switch, but sometimes, especially at night, the bright light makes reading impossible. Those who play games at night or simply want to read content on their Nintendo Switch should give some relief to their eyes by changing the theme.
There are dark and light themes available in the console's settings. If you feel that the screen is too bright and it is making it uneasy for you to read content, switch to the black theme. Small gaming life hacks like this can protect your eyes.
Use PS Vita as a controller
If you don't have an extra Dualshock controller, but your friend wants to team up, you can use PS Vita as a controller. For people who have purchased only one controller but want to play two-player games, there are small gaming life hacks which they can use. Connect your Vita and press the PS button. After signing in as a guest or a user, you can use your PS Vita and as an extra controller.
Sign up for a subscription service
This one involves money, so if you are ready to pay and your internet connection is perfect, choose Sony's PlayStation Now and you can access more than 650 games by paying $20 a month or $45 for three months. If you don't own a console but play games on a PC, you can enjoy PS4 exclusives on your PC via PlayStation Now as this service supports PCs as well.
If you're an Xbox One user, choose Xbox Game Pass and enjoy more than 100 games for $10 per month. The good thing about the Game Pass is that you can download the games on your console just like how you download the games you purchase digitally.
Staff Writer; Jay Baker
Have any Gaming Tips? News? Hit up our Video Games Guru at; JayBaker@AfroGamers.com.