My Thoughts About Survival Heroes.
(AfroGamers.com) When I heard that there was gonna be another battle royale type of game coming out for mobile, I was skeptical at first thinking that it was gonna be another Fornite. But when I found out that this new battle royale game was gonna incorporate MOBA elements into the game, my excitement for this mobile game went straight through the roof.
Upon playing the Survival Heroes mobile game for the first time on my iPhone this week, I was immediately impressed with the gameplay elements and features that they added to the game making it a very enjoyable experience for players who are fans of battle royale type of games like the popular Fornite.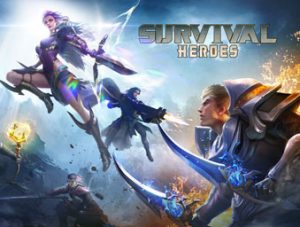 Like other battle royale type games like Fornite, Survival Heroes is also about using your wits and tactics to survive in an area where there are more than 50 other players that are trying to take you out.
Here are some things that I like about Survival Heroes.
1. Leveling Up – One of the things that I like most about this game that's completely different from other battle royale style games such as PUBG and Fornite is that you actually level up when you eliminate either other players or NPCs aka non-playable characters. Through the leveling up system, your character grows more stronger which allow your character to have access to more powerful weapons, armor, and shields. Implementing this feature into the game is definitely a breath of fresh air for new players into the battle royale genre.
2. Graphics – Another thing that I personally enjoy about this game is the fact that the graphics are absolutely amazing and are very detailed because whenever I play the game, the flow of the game runs much smoother on an iPhone than an Android phone, that's just my personal views about that.
3. A Different Feel From Other Battle Royale Games – Another amazing thing about this game is that it has a much different feeling to it because other battle royale type games like PUBG and Fornite have that standard, generic castaway type of feel whereas in Survival Heroes, they incorporated more of a medieval type of feel to it which makes the experience of playing this game even more enjoyable.
4. Different Weapons – Another thing I liked about this game is the fact that they have very different types of weapons. There are some battle royale type games that have the standard weapons like shotgun, handgun, frying pan, and baseball bat. Survival Heroes on the other hand not only has the standard weapons, but they also have medieval weapons like swords, wands, bows, and axes that you can also get to battle other players and non-players to try your hardest to survive and beat the stage.
5. Provides An Enjoyable Experience For Players – One thing that definitely makes Survival Heroes different from other battle royale type games out there is the fact that the different style of graphics, gameplay, and medieval style feel to this game makes this game so much special because you don't have to feel bored or worn out playing this game.
The Conclusion – Survival Heroes is definitely a breath of fresh air that the battle royale game genre needed since the hype for Fornite came early this year and later subsided.
Staff Writer; Kwame Shakir (aka Joe D.)