25th Anniversary Of The Original Power Rangers.
(AfroGamers.com) Next week on August 28th will mark the 25th anniversary of the debut of The Original Power Rangers and to be honest, I'm definitely looking forward to it because my life since first watching The Original Power Rangers 25 years ago as a kid has definitely gotten better quite a bit since then.
Before I actually started watching The Original Power Rangers 25 years ago, I was a little boy that had deep emotional and personal issues going through at that time was the darkest period of my life when I nearly drowned to death in a deep water swimming pool during a field trip, my older auntie killed herself by overdosing on pills, and then my two oldest brothers being shipped off to prison. All of these negative, traumatic experiences that I had experienced during my childhood caused me to have huge self-esteem issues and I had even thoughts of suicide during that time.
But on particular Saturday morning on August 28, 1993 as I was feeling down and out, I turned on the TV and then I see these five costumed live action superheroes that I've never seen before with the show being called The Power Rangers. One of the things that actually made me smile was seeing a superhero that actually looked like me in the form of Walter Jones who revealed in a 2016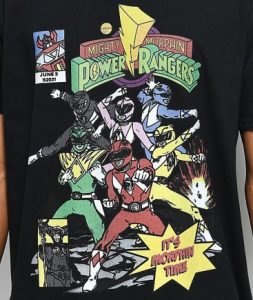 interview with The Young Turks that he was originally casted as The Blue Ranger being a nerd, but because of the negative stigma of black people being a nerd at that time, he personally chose to play as The Black Ranger. I truly understood why he made that decision in the way that he did. I actually met Walter Jones in person when he was here in Montgomery last August during the 1st ever Gump City Con and it was an amazing moment that I'll never forget.
I had the opportunity this past March at the first annual River Region Comic Con to meet another one of The Original Power Rangers in the first black female ranger in Karan Ashley who was actually my childhood crush and when I told her that during the 5 minute conversation that I had with her, she asked me, "Did I fall off?" & I replied, "Of course not".
I learned so much from watching The Original Power Rangers because not only did this show actually save my life, but it gave me a much better optimistic view of life itself. This show taught me the fundamentals of setting goals, teamwork, overcoming adversity especially when the odds are against you, the importance of working together as a team, and being fearless and relentless of getting things done.
My favorite Power Ranger will always be Zach Taylor because he was the most charismatic, stylish, and energetic of all The Original Power Rangers and my favorite Power Ranger villain will always be Lord Zedd because he not only looked extremely demonic in his appearance, but because he was the most cunning, dangerous, manipulative, and the most ruthless of all the Power Ranger villains that I've ever seen.
My favorite episodes of The Original Power Rangers will always be "Green With Evil" which was a 5 episode special in which a new character by the name of Tommy Oliver aka The Green Ranger (under the corruptive influence of Rita Repulsa) was first introduced as a vicious and ruthless antagonist who was used as a pawn by Rita to try to destroy The Power Rangers in her attempts to conquer The Earth. The fight between the five power rangers and the green Ranger was so intense that the five power rangers eventually overcome the odds and later defeated the green Ranger which freed Tommy from Rita's negative, corruptive influence that she had over him.
Note: I had found out recently that the concept of The Original Power Rangers was based on a popular superhero series called "The Super Sentai" that often featured 5 heroes and sometimes 6 that fought to protect the earth from being conquered/destroyed by ruthless antagonists.
The Conclusion – I will always be thankful that I got to watch The Original Power Rangers during my childhood because it was a major turning point in my life and changed my life forever.
Staff Writer; Kwame Shakir (aka Joe D.)