F1 2018 Career Mode in Depth: What to Expect From Codemasters.
(AfroGamers.com) The F1 2018 Career Mode is one of the biggest highlights of this year's racing simulator developed by British studio Codemasters. With the last year's game, F1 2017, the franchise already reached the peak in terms of realism, fun and technical excellence. Now when F1 2018 release is just around the corner, it looks like the team working on the game doesn't settle for anything less than their best. Here's what you can expect from the F1 2018 Career Mode refresh.
A more connected and collaborative approach
The Career Mode in F1 2018 requires players to become a better driver. It's not just about their driving skills, but players will need to have a better understanding of in-game events. Everything including interviews, research, and development, contract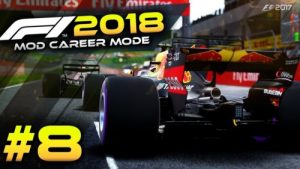 negotiations, team motivation, rivalries, and reputation is connected. It means that players' decisions and choices will have a significant impact on other areas. In short, the developer wants players to be the best – "complete driver package."
How players present themselves in media and answer questions will have an impact on their teams' motivation. F1 2018 will feature time-pressured interviews. When a driver is off-track, journalists can approach him and ask questions about his driving career, teams, rivalries, and his overall career and reputation. Driver value is important because it will help players negotiate contracts and it can also help them in getting better deals.
Reputation is your most valuable asset
An interesting thing about the F1 2018 Career Mode is that it lets players challenge not only their team-mate but they can also pick another driver as their rival. This again impacts on players' reputation. How you perform on track is a different thing, but how you react to the questions journalists ask you about your rivalry matters a lot. Defeating a high-performing driver will bring people and stats in your favor but if you lose a race to a weaker driver, your reputation will get affected.
In F1 2018, each of the teams will have their own preference for driver character. A driver who's good on track regardless of his behavior with the press can be a preferred choice for some teams, while for others, an ill-mannered player is not eligible no matter how good he is as a driver. In the end, it's all about how players safeguard their reputation and maintain it.
It's teamwork that pays off
There are four departments associated with each team in F1 2018 – powertrain, aerodynamics, reliability, and chassis. The motivation system in the Career Mode focuses on how happy and satisfied people working in these departments are. For example, during an interview with the press, it's easy for a driver to blame a team or any of their departments or the vehicle itself for something. Their response can motivate or demotivate an entire team or a particular department. If you are expecting these teams to work in a more reliable manner, motivation is needed. You can expect repairs and upgrades at a lower cost from a highly motivated team.
Other key changes in Career Mode
One of the most significant features in the research and development system is the newly introduced "rules change." Just like the real game, players will be facing a rules change and when it happens, the R&D work done by a team can become ineligible for the following season. Players will need to work with AI to make sure that during the next season, they won't have to start the season with poor performance. Codemasters said that each season could see a difference in performance order.
F1 2018 Career Mode is very different from what we have seen in other games of the series. The Career Mode now encourages players to step into the racing world with a strategy in mind. Players can either choose to master other things as well or they can just focus on improving their on-track skills. The best strategy, according to the developer, is that the players should focus on the long journey because chasing straight wins wouldn't be fun. F1 2018 is all set to hit PS4, Xbox One, and PC on August 24, 2018.
Staff Writer; Jay Baker
Have any Gaming Tips? News? Hit up our Video Games Guru at; JayBaker@AfroGamers.com.